News
Foreign policy in times of conflict: research without fieldwork
This article was published on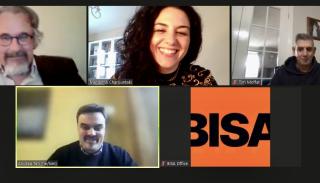 On 1 December FPWG organised a virtual event looking specifically at how universities can navigate within FCDO's advice about risks and research considered 'sensitive'. Speakers included Tim Moffat (BBC), Dr Thomas Schmidinger (University of Vienna) and Dr Andrea Teti (University of Aberdeen).
The session was moderated by Dr Marianna Charountaki. 
Tim Moffat noted:
From my observations, it would seem that due to various factors, there is a declining appetite by university management to approve field work in areas that carry risk and have travel advisories. As mentioned, fieldwork is critical to your work, it is hard to be a specialist in an area that you have never visited. You will know more than me what the real benefits to field work are – these, in my mind, are critical for relaunching a business case with your senior managers, to get that 'buy in'.
What do we need to do to get that buy in:
Write up a business case as to why field work is critical, wherever in the world it needs to take place.
If business case accepted, create a working group with pan university stakeholders to look at how to proceed
Create a 'High Risk' Field Deployment Policy – and seek agreement form stakeholders
Using that policy, create lean, streamlined processes and procedures that form a Risk Management Framework that covers 'High Risk' filed work.
Once agreed look at how best this would be delivered – via internal staff or outsourced to a RM contractor.
Seek funding for above once costs known
Beta test process on a couple of field visits
Implement process
Dr Schmidinger added: 
Academic institutions such as universities increasingly make it impossible for both PhD students and experienced academics to conduct research in crisis regions. In this context, often very sweeping travel warnings issued by foreign ministries are used as a basis for assessing research trips, some of which are supposed to be conducted by very experienced experts of the respective region. Research in crisis regions is thus increasingly carried out only by little or no established freelancers who have no institutional security whatsoever. Instead of preparing researchers for behavior in crisis regions and thus reducing risks, as is sometimes the case in journalism, empirical research within academic institutions is thus rendered impossible in the first place. In view of the widespread conflicts in the Middle East, this threatens to produce a generation of young Middle East researchers who have never conducted field research in the region themselves. This represents a tremendous loss of knowledge and practical skills and impedes academic exchanges between the Middle East and Europe and the U.S., and contributes to debates about and with the region being dominated by half-knowledge and conducted with little empirical basis.
Dr Teti rounds off the comments:
Several factors contribute to creating incentives for UK Universities to prioritise risk management in field research by reducing the scope for fieldwork itself. Low-probability but high-risk events such as violence against researchers combine with other factors to effectively disincentivate fieldwork – factors such as the relatively high cost in terms of time and money that goes towards spending time 'in the field', the comparatively greater profitability of applying for funded research using quantitative data, or the greater prestige and 'rigour' quantitative desk-based research has not least in the eyes of policymakers. Conversely, the ethical approval channels through which field research is authorised face the twin challenges of Universities no longer having a culture in which fieldwork is understood as central to Politics research and that outside relatively few institutions with significant concentrations of expertise within given 'areas' ethics/fieldwork bodies often do not have greater area knowledge or fieldwork experience than the scholar whose request is being assessed. This combination of factors devalues fieldwork and area expertise – both of which are crucial in order to make research in Political Science rigorous, and relevant to both scholars and policy stakeholders – while not making the approval and monitoring process for fieldwork any more rigorous or safer.