Article
Workshop summary: Global health science, technology and security
The Global Health Working Group sponsored an in-person event that ran on 10 and 11 May 2023 at the University of Sussex entitled 'Global Health and the Confluence of Science, Technology and Security: COVID-19 and Beyond'.  The workshop was organised and run by working group convenor Christopher Long and it brought together 15 scholars from around Europe working on cutting edge issues that transcend the fields of global health, science, technology and security. 
This article was written by
Christopher Long
This article was published on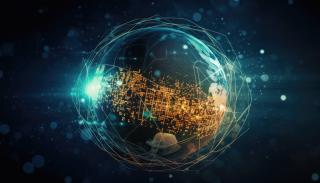 Presentations were grouped into four distinct areas. In the first area: Data, Surveillance and Metrics, Anne-Sophie Jung discussed the large datasets relating to antimicrobial resistance that exist but that often remain incompatible, hidden behind paywalls, or are controlled by limiting access to technical infrastructures. The political issues that this generates focused on the production of data and how this is used as a mechanism of power, including the way that state actors attempt to break and re-enforce territorial authority towards 'data sovereignty'. 
The commercialization of data and expertise that has occurred in global disease surveillance and outbreak detection was investigated by Katerini Storeng.  Private firms such as Airfinity, with access to proprietary data and algorithms now market "pandemic intelligence" products that promise to let both public- and private-sector clients predict and pre-empt disease outbreaks.  These actions are now displacing expertise based on more 'traditional' approaches to disease-surveillance that rely on public health data and epidemiology. 
Christopher Long analysed the genetic data gathered during the COVID-19 pandemic using genome mapping and RT-PCR tests that was visualised on the Johns Hopkins COVID-19 data dashboard (JHDD) and HealthMap.  Drawing from work analysing the image in security studies and the role that maps play in international politics, it was argued that the political power of the JHDD derived from the immediacy and accessibility of its visual content that visualised territory in terms of the spread of viral genetic information.
The Global Health Security (GHS) Index as a political metric that renders international preparedness deficits visible, measurable and governable was examined by Christian Haddad.  This Index established an 'evidence base' for targeted policy reforms to guide governments, funders and health organizations in directing and prioritizing investments. The Index was conceptualized as a hybrid soft power technology in the field of GHS governance that combined disciplinary and governmental powers to generate strategic knowledge that operates on a moral economy of preparedness deficits.
In the second area: States, Violence and Inequalities, Laura Jung examined psychiatry as a technology employed in the making of modern states. Taking the case of Germany from 1871 to the present, psychiatrists were tasked with evaluating the traumatic conditions of patients, assessing whether they were genuine and thereby adjudicating not only their psychiatric health and illness but also their eligibility for certain social and political entitlements that defined a specifically German sovereign subjectivity of 'Man'.
Malte Riemann explored public health-based approaches to violence prevention by investigating what the medicalization of urban violence does to the city and its inhabitants, focusing specifically on the absent presences within this medicalized discourse. The findings demonstrated that public-health based approaches to violence prevention not only have limited effects on reducing physical violence but actively produce indirect forms of violence.
Andreas Papamichail scrutinised the COVID-19 outbreak and political attempts to contain, mitigate and counteract the effects of the virus via the unequal burdens of lockdowns, the imposition of border controls and movement restrictions, and vaccine production and distribution.  Such actions shed light on and reinscribed various domestic and global hierarchies that are enduring features of the so-called Liberal International Order.
The emergence of specialized new command centres called Emergency Operations Centres (EOCs) was analysed by Stefan Elbe via an in-depth site ontological analysis. A specific form of oligoptical power was revealed.  EOCs exemplify this global operation of oligoptical power and they can ultimately be considered its signal institutions. EOCs make it easier to deal with emergencies and to coordinate national and international action. 
In the third area: Economics, Equity and Technologies, the politics of pharmaceutical manufacturing in Africa was addressed by Anne Roemer-Mahler. Since the COVID-19 pandemic, organisations from Africa and elsewhere have called for strengthening local vaccine manufacturing on the continent.  Five factors, including advances in vaccine platform technologies, help explain this development and they highlight the importance of political considerations in shaping how health technologies are distributed. 
Political attitudes towards vaccine equity in the COVID-19 pandemic was investigated by Renu Singh.  Surveys in the US, Germany and Italy were conducted to understand (1) overall support for vaccine equity policies, (2) who is more likely to support these policies, and (3) if different issue frames relating to self-interest and fairness can affect support for them.  The results suggested that most people want their governments to do more to facilitate equity, with ideology, self-interest, and empathy being among the most influential factors. 
The global system of technology-enabled vaccine/immunity passports utilised as part of the response to the COVID-19 pandemic was investigated by Simon Rushton. QR code-based systems were widely touted as a solution to concerns over both individual privacy and fraudulent documentation. QR-based travel documents were promoted as key to allowing a rapid "return to normality" without having to await the end of the pandemic; or even, in the early proposals, the invention of a vaccine.
In the fourth area: Entanglements, Interactions and the Blurring of Boundaries, laboratory research with high-risk pathogens was analysed by Dagmar Vorlíček.  Investigating the rise of this research, the connected histories of science and international politics were drawn out and the social, material, and spatial effects of past entanglements of scientific research and international security were scrutinized. The influence of past security imaginaries in shaping the workings of research infrastructures and global scientific flows were traced along with the history and politics of researching deadly pathogens.
The growing industry of cryonics - the preservation of the human body with the aim of eventual revival - was investigated by Jana Fey. The potential for cryonic revival raises questions about citizenship, the governance of emerging technologies, and the distribution of resources in a world where death is no longer a permanent barrier. This movement was conceptualised as a capitalist response to a growing unease with humanity's trajectory in the context of perpetual conflict and environmental degradation.
The use of lateral flow tests in the COVID-19 pandemic as a tool of security, technology and knowledge production was addressed by Katharina Wezel. These tests were analysed as 'boundary objects' in the meaning-making of health security, as they function as mediators of medical knowledge and feelings of (temporary) safety. This translated into either social inclusion or isolation generating acceptable behaviours within communities, notions of trust, safety and threat that are re-negotiated and enacted.
The contribution of an ethos of (dis)entanglement arising from quantum thought in relation to the global COVID-19 pandemic was analysed by Nadine Voelkner. A world of pandemic separation created through barriers to infection was contrasted with global interspecies living, which has given rise to newly emerging infectious diseases including COVID-19. This pandemic demonstrated that the health of human beings is deeply entangled with that of other species and places highlighting the limits of the mechanistic ontology driving modern public health thinking.
This event demonstrated the range of work going on in the thriving field of global health that is evaluating the impact that new technologies are playing in the political arena. It also revealed a number of synergies and themes connecting the participant's research that can form the basis of future collaborations and relationships.