News
Call for papers: Critical perspectives on NATO workshop
This article was published on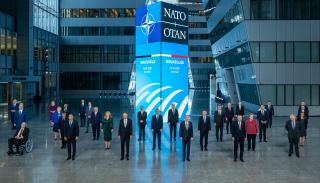 On Thursday 25 May and Friday 26 May 2023, a workshop will be held on 'Critical perspectives on NATO' at Newcastle University (UK). The workshop is sponsored by the Gendering IR Working Group and the Military War and Security Research Group, Newcastle University.
Keynote: Dr Maria Mälksoo, University of Copenhagen
This two-day workshop takes place against the backdrop of NATO's resurgence in the spotlight and capturing global headlines in response to the Russia-Ukraine War. Russia's war on Ukraine, including the Russian intervention and illegal annexation of Crimea in 2014, has gravely affected international security, not least by raising concerns about the threat of nuclear war. Within this context, the Alliance appears to be returning to its Cold War roots as its membership expands to include Finland and Sweden with Ukraine itself desiring NATO membership, all while renewing conversations about the opportunities and challenges of the Alliance's growth in size and means. Prior to this, the withdrawal of NATO troops from Afghanistan in 2021 after almost twenty years has also had a lasting impact on those left behind and NATO's reputation. More recently, in the summer of 2022, NATO adopted its latest Strategic Concept setting its future agenda while bluntly stating that '[t]he Euro-Atlantic area is not at peace'. Interestingly, given this apparent return to 'realpolitik', Human Security; Women, Peace and Security; and climate change are prominent features in the new Strategic Concept. It also identifies China as a threat for the first time. All of these developments warrant new critical engagement with NATO and its purpose in international politics, its priorities and challenges in this new security environment (e.g. disinformation, digital resilience, Artificial Intelligence), and an assessment of the Alliance's future directions (e.g. its role in the Arctic; its relations with its Southern partners; or its relations with other aspiring members (e.g Georgia or Bosnia Herzegovina). 
Although there is extensive academic interest in NATO, with some arguing that there is a body of scholarship on 'NATO studies' (Weber and Sperling, forthcoming), critical perspectives remain on the margins. The aim of the workshop is to bring together scholars and practitioners interested in unpacking the seemingly contradiction between 'hard' and 'soft' security within the workings of the Alliance. In this context, we aim to focus on a range of critical perspectives (e.g. but not limited to feminist, queer, decolonial..) to address a number of related issues (e.g. climate change, Women, Peace and Security, feminist foreign policy, hybrid threats, digital diplomacy, nuclear proliferation, war preparation etc.) while simultaneously paying close attention to the Alliance's relations with others across the globe (e.g. Japan, New Zealand and Ukraine). By exploring perspectives on NATO from within and beyond the Alliance, we aim to examine perceptions of civil society on the Alliance (including anti-NATO activism), to interrogate NATO's visual and spatial politics, to examine its relations with China and Russia, or to assess its partnerships with other IOs (e.g. UN or EU).  
Important dates
Deadline for paper proposals (max. 200 words): 27 January 2023.
Notification of acceptance: Early February
Deadline for circulation of draft papers (max. 5,000 words): 1 May 2023. 
Workshop Dates: Thursday 25 to Friday 26 May 2023. 
Paper proposals should be submitted via the online form available at: https://forms.office.com/r/sxs0bFmxcb
Organisers
Dr Sorana Jude and Dr Katharine A M Wright, Newcastle University
Please feel free to contact either Sorana Jude (sorana-cristiana.jude@newcastle.ac.uk) or Katharine A M Wright (katharine.a.m.wright@newcastle.ac.uk) if you have any queries.
Image by Government of the Republic of North Macedonia, PDM-owner, via Creative Commons