News
Ecocide in International Relations
This article was published on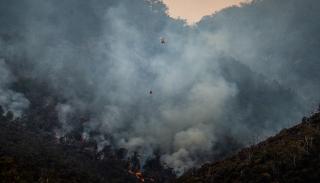 Dr Suwita Hani Randhawa (Senior Lecturer in Politics and International Relations, University of the West of England) and Dr Alexander Hoseason (Teaching Associate in Politics and International Relations, Aston University) are putting together a proposal for a workshop on "Ecocide in International Relations" at the upcoming 11th European Workshops in International Studies, which will take place at the Kadir Has University in Istanbul, from 3-5 July 2024.
If you are interested in participating in this workshop, please email Dr Suwita Hani Randhawa (suwita.hanirandhawa@uwe.ac.uk) with a brief outline of a paper topic by 20 November 2023.
Details of the proposed workshop:
Ecocide in International Relations
Ecocide has been gaining growing legal and political significance in contemporary global politics. Notably, it has been the subject of a vibrant global campaign since 2017 calling for ecocide to be added to the existing list of international crimes, which is currently confined to aggression, crimes against humanity, genocide and war crimes. Spearheaded by Stop Ecocide International (SEI), who are working closely with global networks of diplomats, lawyers, parliamentarians, and civil society organisations, this campaign sees ecocide's criminalisation under international law as a necessary precondition for securing meaningful climate/ecological justice. In 2021, an Independent Expert Panel convened by SEI formulated a legal definition of ecocide, which is presently the subject of international diplomatic discussions.
In the context of the Russian invasion of Ukraine, ecocide also featured within President Volodymyr Zelensky's 10-Point Peace Plan, where it constitutes part of Ukraine's postwar reconstruction priorities. Ukraine is seeking compensation from Russia for environmental destruction suffered since the start of the invasion and to that end, Ukraine's Environmental Ministry has been documenting cases of Russian ecocide since the start of the invasion. Moreover, its Prosecutor General is currently investigating the recent bombing of the Nova Kakhovka dam as a case of ecocide.
Ecocide has also been the subject of ongoing domestic political discussion and legislative efforts. In March 2023, ecocide was included for the first time in a legislative text at the European level, when the European Parliament voted to support the inclusion of ecocide within the European Union's revised crime directive. In 2021, France joined a small grouping of states who stand out for having recognised a crime of ecocide under domestic law – and national bills or proposals on ecocide are currently being discussed in over 10 national parliaments.
However, calls for justice and accountability for ecocide are not new in global politics, with the term having been coined in the 1970s by the scientist Arthur Galston in opposition to herbicidal warfare during the Vietnam War before being appropriated by a wide range of environmental and anti-colonial movements. These historical and present-day developments have been the subject of critical inquiry by scholars working in diverse areas such as international law, green criminology, geography and genocide studies, where there is now a well-established literature on ecocide. By contrast, there has been little engagement with ecocide within the discipline of International Relations (IR).
This proposed workshop therefore constitutes one of the first attempts to critically explore the 'international relations of ecocide', as well as to consider the significance of ecocide for IR. In doing so, it seeks to bring together an emerging group of IR scholars interested in this topic with contemporary ecocide scholars from a range of disciplines within the social sciences, to foster greater interdisciplinary dialogue and scholarship on ecocide.
Photo by Matt Palmer on Unsplash