News
Call for papers: US Foreign Policy Working Group PGR/ECR Online Conference 2021
This article was published on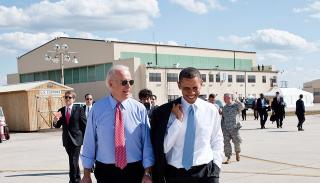 Conference date: 16-17 November 2021
The US Foreign Policy Working Group is inviting early career researchers and doctoral students to submit papers to this years ECR/PGR online conference taking place on 16-17 November, centred around the theme of 'Shifts in US Foreign Policy'.
Theme: Shifts in US foreign policy
This year is the 80th anniversary of the Atlantic Charter. This document, signed by President Franklin D. Roosevelt and Prime Minister Winston Churchill, signified a new vision for American foreign policy and the wider world after the Second World War. This milestone committed the United States and the United Kingdom to tackling what they considered to be the most pressing threats on the international stage, making the defence of democracy, the strengthening of international institutions, the recognition of sovereignty and territorial integrity, supporting collective security, and reinforcing a rules-based economy the linchpin of American grand strategy. Yet in recent times, the presidency of Donald J. Trump has shown us how a rejection of the liberal international order and a liberal internationalist grand strategy can have crucial impacts on international affairs. As we take stock of where US foreign policy has been and where it might be headed as President Biden promises to 'build back better', this conference aims to place milestones and changes in American foreign policy in a wider historical and scholarly context.
Confirmed keynote speaker: Dr Susan Colbourn
Susan Colbourn is a diplomatic and international historian, interested in questions of strategy and security in the atomic age. She specialises in the history of the Cold War with a focus on NATO, the politics of European security, and the role of nuclear weapons in international politics and society.
Susan is Associate Director of the Triangle Institute for Security Studies (TISS) based at the Sanford School of Public Policy at Duke University.
She is author of 'Euromissiles: A Transatlantic History', forthcoming from Cornell University Press in 2022, which explores how NATO's nuclear policies nearly destroyed it – and why the alliance narrowly escaped such a fate. She is also the editor, along with Timothy Andrews Sayle, of 'The Nuclear North: Histories of Canada in the Atomic Age', a collection of essays on Canadian nuclear history, published by University of British Columbia Press in autumn 2020.
Prior to joining TISS, Susan held postdoctoral fellowships at John Hopkins School of Advanced International Studies and International Security Studies at Yale University. She received her PhD in History from the University of Toronto.
Roundtable event - Publishing as an early-career researcher: Op-eds, journal articles and book chapters
More information for this conference roundtable will be provided soon, including the confirmation of speakers.
Call for papers
We invite proposals for individual papers from PhD students and early-career researchers on any aspect of contemporary or historical US foreign policy. We also welcome proposals from a range of scholarly perspectives including, but not limited to: International Relations; History; Political Science; Economics and other related disciplines.
Possible topics might include: US foreign policy as it relates to international security; gender; nuclear weapons; trade and finance; multilateral organisations and institutions; cyber security; race; human rights; climate change; alliances; counter-terrorism; regional or global power shifts; and any other relevant area. We also welcome papers that focus on specific administrations or presidential legacies, broader focuses on grand strategy and considerations of what the future holds for US foreign policy.
Format
This year's conference will be a two-day virtual event where PhD students and early-career researchers will have the opportunity to circulate a paper of up to 7,000 words prior to the conference. On the day, participants will deliver a brief 10-minute overview of the paper and then receive feedback from the panel discussant. The floor will then be opened up to allow for a Q&A session among the wider audience.
We are committed to ensuring the conference is a welcoming, supportive and intellectually stimulating environment for all and intend to use the fully virtual setup of 2021 to ensure the conference is our most diverse, inclusive and accessible to date.
Proposals should include a 200-word abstract along with a two-page CV and should be submitted to the convenors, Ellis Mallett (University of Surrey) and Grant Golub (LSE), at USFPWGconference@gmail.com by the deadline of Friday 3 September 2021. For more information or any queries, please contact us using the same email address.
Those attending and participating in the conference will require a BISA membership, find out more about the benefits of BISA membership and become a member today.