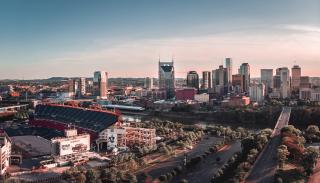 BISA at ISA 2022 in Nashville
This article was published on
We're delighted to announce that we'll once again be joining colleagues at the International Studies Association (ISA) conference in Nashville in 2022.
Firstly, we'll be holding a BISA reception on Thursday 31 March from 7.30pm in the Jackson E room. We'll showcase our two highly-regarded academic journals – Review of International Studies (RIS) and European Journal of International Security (EJIS), as well as our fantastic book series which consists of over 150 books. Come and meet us, our journal and book series editors as well as representatives from Cambridge University Press over a free glass of wine. There'll also be a short update from BISA Vice-Chair, Kyle Grayson, and a supply of delicious canapes.
Please register for your free place now so that we have an idea of numbers for catering, and don't forget to put it in your diary.
Secondly, three excellent BISA-sponsored panels were accepted through our partnership with ISA
Foreign Policy Working Group - Non-State Actors and foreign policy making: A Change in Progress (Marianna Charountaki), 28 Mar 2022, 12.30-2pm
Critical Studies on Terrorism Working Group - Contemporary Reflections on Critical Terrorism Studies (Alice Martini), 30 Mar 2022, 1.45-3.30pm
International Political Economy Working Group (IPEG) - Governing Global Displacement in a Smaller World (Ali Bhagat), 1 Apr, 4-5.45pm.
In addition, representatives from our journals will be attending the conference. In particular, RIS editor Matthew Paterson will be honoured at a Distinguished Scholar panel, and presenting on a number of others, RIS editor Nisha Shah will be on a panel, EJIS editor Jason Ralph will be presenting, and EJIS editor Jacqui True will be taking part in several panels virtually. You can find out more information in the full ISA programme.