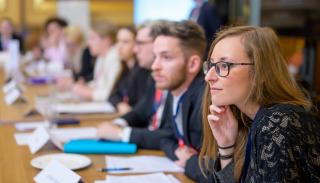 Why study International Relations?
This article was written by
Julia Welland
This article was published on
International terrorism; cyber (in)security; the rise of Facebook and Google; the climate emergency; the legacy of colonialism; global inequality; international health pandemics; Brexit; the international politics of #MeToo, migration… The world in the 21st century is a complex place, and one that is impossible to understand through a local, or even national, frame. A degree in International Relations, with its examination of the global relations of states, power and organisations, is uniquely positioned to help us understand and develop solutions to this complicated mix of global challenges and opportunities.
What is International Relations?
International Relations – sometimes referred to as International Studies – is a branch of Political Science that, through its examination of states, international alliances, transnational organisations and the global economy, seeks to make sense of an increasingly globalised world. A degree in International Relations will deal with issues such as sovereignty, human rights, development, and environmentalism, and introduce you to a diverse range of concepts and theories that offer a number of ways to approach the global issues of the 21st century. 
Why study International Relations?
Understanding and confronting the complexities, challenges and opportunities of the contemporary global order requires drawing on multiple disciplines and the ideas of numerous theorists, thinkers, activists and political leaders. An International Relations degree will include insights from various intersecting disciplines, including Political Science, Economics, History and Sociology, as well as introducing you to the ideas of thinkers as diverse as Machiavelli, Karl Marx, Edward Said, Hannah Arendt and Audre Lorde. These conceptual and theoretical insights will be complemented by a close study of the 'real world' of international affairs, including: examining past and present violent conflicts; the workings of international bodies such as the UN, World Bank and World Trade Organisation; alliances between states and regions; and the behaviour of great powers such as the US and China. 
A degree in International Relations also provides a number of highly sought after transferable skills, including: 
fluency in verbal and written communication and argumentation;
an ability to gather, organise and deploy analytical evidence, data and information from a variety of secondary and primary sources;
collaboration with others through group work and class discussion;
critical appraisal of concepts and information;
use of information and communication technology for the retrieval and presentation of information;
cross-cultural awareness.
Which careers can International Relations lead to?
The global focus and transferable skills of an International Relations degree means you'll be well-placed to take advantage of many exciting employment opportunities after finishing your course. You'll have expertise in global affairs that can lead to jobs in:
government;
the civil service;
non-governmental organisations;
development;
diplomacy. 
In an increasingly globalised job market and economy employers across the business, service and non-profit sectors will also be looking for employees who have a deep understanding of international affairs. This, combined with the critical analytical and research skills acquired during your degree, mean you'll be well qualified to pursue careers in journalism, law, social policy, international finance, business and technology. 
Choosing where to study
The UK is home to a number of world-leading university departments of Politics and International Relations/Studies. Both The Guardian and The Times publish annual university league guides, which provide information on issues such as student-staff ratios and employment rates for graduates. University league tables, however, should not be your only guide in choosing where to apply. Spend some time thinking about what you are interested in learning about and what you want your experience at university to include. For example, does the opportunity to spend a year abroad appeal to you? Do you want to just study International Relations/Studies, or would you like to combine it with Politics or another discipline such as History, Sociology or a foreign language? All universities and departments offer open days for prospective students, which give you the opportunity to find out more about the course and meet the lecturers responsible for delivering it. Attend as many open days as possible and ask any questions you have – the lecturers will be more than happy to answer them. 
Author
Julia Welland is an Assistant Professor of War Studies and Leverhulme Early Career Fellow at the University of Warwick. Her current research uses feminist insights to explore the emotional landscape of war and militarism. She has been a BISA trustee since January 2017 and previously co-convened the Gendering International Relations Working Group.