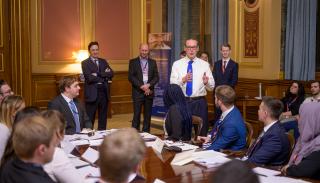 BISA/FCDO model NATO 2021
This article was published on
We're delighted to confirm that we will once again be holding a model NATO in partnership with the Foreign, Commonwealth and Development Office (FCDO). Given the current circumstances owing to the global pandemic, the 2021 model will of course take place virtually. However, it is a great pleasure to be able to offer this unique experience for students to take part in active learning.
The virtual model NATO will take place across one full day in the last week of January 2021. It will involve one NATO body (the North Atlantic Council) and will attend to the management of a crisis.
As previously, 15 universities from across the UK will be able to take part. Through their participation in the event, they will learn about how NATO works and the significance of the Alliance for UK and European defence.
Simulation events are a recognised model of learning and allow participants access to insights unobtainable in a traditional classroom setting. While Model UN is perhaps the best known, Model NATO too has obtained a permanent presence in the educational calendar – with simulations being run in Washington DC, Bologna, Brussels and elsewhere. Preparation for, and involvement in, a Model is often transformative for participants, inspiring students to embark upon careers and projects in diplomacy, government and military service.
Ryan Fallon, a Newcastle University student and participant in last year's model, said of his experience:
"It really played into how real things were. You could feel the jubilation around the room when the North Atlantic Council approved our overall bill and our hard work paid off. It definitely felt real."
Each of the participating universities will be allocated two allied countries, and for each country they will be permitted a double delegate. The allocation of countries took place in a draw on 22 October and you can watch the video below.
Country briefs for all 30 NATO allies will be provided to the students in advance, along with an outline crisis scenario, so that they have time to prepare. On the day of the model we will have Home Government and a Secretariat on hand to offer advice. We also hope to have keynote speakers.
As part of the support from FCDO, some students will have an opportunity of a virtual briefing from Foreign Office staff. In addition, we have Daniel Drake, Head of the Euro-Atlantic Security Policy Unit, providing a BISA-hosted briefing on NATO's current agenda on 19 November. This event is free and open to all. Please register at https://www.bisa.ac.uk/events/nato-2030.
The universities taking part in the 2021 model are:
Birmingham
Cardiff
Coventry
Kent
Kings College London
Leeds
Newcastle
Plymouth
Queens University Belfast
Sheffield
South Wales
Staffordshire
Stirling
Surrey
Westminster