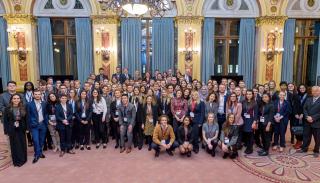 BISA/FCDO model NATO 2022
This article was published on
We're delighted to confirm that we will once again be holding a model NATO in partnership with the Foreign, Commonwealth and Development Office (FCDO). This annual flagship event represents a unique experience for students to take part in active learning.
As in previous years, 15 universities from across the UK will be taking part. Through their participation in the event, student-delegates will learn about how NATO works and the significance of the Alliance for UK and European defence. We remain hopeful that this year's event, scheduled for Friday 11 March, will be in-person at the London offices of the FCDO, but – as in 2021 – have experience of running the event virtually if necessary.
Simulation events are a recognised means of learning and allow participants access to insights unobtainable in a traditional classroom setting. While Model UN is perhaps the best known, Model NATO too has obtained a permanent presence in the educational calendar – with simulations being run in Washington DC, Bologna, Brussels and elsewhere. Preparation for, and involvement in, a Model is often transformative for participants, inspiring students to embark upon careers and projects in diplomacy, government and military service.
Dec Greaves, a participant in the 2021 model and student from the University of Surrey, said:
"As someone who had never participated in a Model UN or NATO before, I came into it pretty unaware. But I quickly found myself completely invested! To find areas of agreement with other allied states not only built on my people skills, but made me aware of the varying levels of negotiation within diplomacy."
The 2022 Model will commence with a crisis alert and each committee will have a distinct role to perform. We have randomly drawn selected countries for each of the participating universities. Students will be given a set of briefing materials on national capabilities and policies, and basic information on NATO's mission and organisation in advance of the event. You can view the country draw towards the bottom of this page.
On-site advisers will operate as 'home government', issuing instructions if needed and ready to provide advice if requested. The Model will culminate with an agreed set of actions and close with a plenary session dedicated to the presentation of certificates of participation and delegate awards. An evening reception will be held following the event, hosted by the FCDO.
Mark Webber, Honorary President of BISA and NATO specialist said:
"This annual event fits perfectly with BISA's objective to promote and develop International Studies. The feedback from both student delegates and their academic leads is that participation raises awareness and self-confidence. Those attending the Model will leave with a deeper knowledge of how international crises and negotiations evolve. It is also a great pleasure to join forces with the FCDO once again."
The universities taking part in the 2022 model are:
Birmingham
Coventry
Gloucester
Kent
Kings College London
Leeds
Manchester Metropolitan
London School of Economics
Newcastle
Queens University Belfast
Sheffield
Staffordshire
Stirling
Surrey
Westminster
Top image from Model NATO 2019.