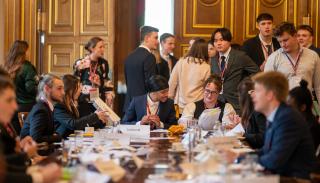 BISA/FCDO Model NATO sees students gain transferable skills
This article was published on
On Friday 11 March almost 100 students from 15 UK universities took part in the annual BISA Model NATO. The event was run in partnership with the Foreign Commonwealth and Development Office (FCDO), and we were delighted to be able to return to an in-person event at the FCDO after going virtual in 2021.
The day started with a welcome from NATO Assistant General Secretary for Emerging Security Challenges, David van Weel. Working through facsimiles of two specialised NATO bodies – the Military Committee and the Civil Emergency Planning Committee – the students then had to agree a detailed set of actions to be endorsed in a final declaration by a simulated North Atlantic Council, NATO's highest authority. 
Each student had been given a NATO nation to represent and had done research into their country's resources and political positions prior to the Model. They had also been given two briefings on the disaster at hand - multiple earthquakes across the eastern Mediterranean and south-east Europe resulting in significant loss of life and mass displacement of populations.
Mark Webber, BISA President and a NATO specialist, said:
"Participation in Model NATO gives an insight into the challenges of making decisions in a large international organisation. A Model such as this has obvious educational benefits, but it is also enjoyable and fun. The experience of being 'in role', articulating the position of a country and meeting with other delegates, is both challenging and inspiring. It was fantastic to once again be able to give students the opportunity to go to London and participate inside the FCDO offices."

Becci Dugdale, a participant from the University of Westminster said:
"Meeting other students from across the UK was invaluable, and I made some great contacts who I hope to stay in touch with. Taking part in a conference with such fierce competition and a fantastic standard of university representatives was a pleasure to be a part of. On the North Atlantic Council, the contributions of students were fantastic, and it really allowed me to hone my debating skills."
Becci has written a case study covering preparation, the best and most challenging aspects of the day, and the skills she learned and developed.
Sin Sin Lo, a participant from the University of Gloucestershire, added:
"It was my pleasure to be part of the Model NATO. It is educational and highlights the emergency of the global crisis situation. Model NATO enabled me to understand intra-NATO diplomacy and to realise the importance of high levels of interoperability with NATO."
To conclude the event several awards were presented to delegates by BISA Director Juliet Dryden. The winners were:
Outstanding Delegation: Croatia (Queen's University Belfast)
Distinguished Delegation: Denmark (Newcastle University)
Outstanding Delegate in the North Atlantic Council: Manas Chawla (LSE) representing Portugal
Distinguished Delegate in the North Atlantic Council: Miksa Jordan (LSE), representing North Macedonia
Outstanding Delegate in the Military Committee: Derin Kocer (King's College London), representing Spain
Distinguished Delegate in the Military Committee: Harrison Layden-Fritz (University of Leeds), representing Greece
Outstanding Delegate in the Civil Emergency Planning Committee: Shreya Shah (University of Birmingham), representing Poland
Distinguished Delegate in the Civil Emergency Planning Committee: Abbey Stroud (University of Stirling), representing Canada.
All students received a commemorative certificate for their participation in the event.
Find out more about what took place on the day, and what the participants took from the experience by watching short videos made by University of Stirling students Dimitrios Terzis and Abbey Stroud.