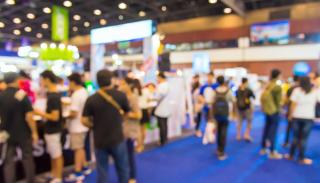 Call for expressions of interest: Represent BISA at the British Academy Summer Showcase
This article was published on
The British Academy will be hosting its annual Summer Showcase at the Academy's London home on Friday 17 and Saturday 18 June 2022 and is giving BISA the opportunity to get involved. The aim is to show potential students and teachers what International Studies has to offer at its school day on Friday 17 June 2022.
The summer Showcase if a free festival of ideas for curious minds and celebrates the ground-breaking research from the humanities and social sciences which is shaping and improving our world. To learn more please watch this short video from the last in-person event in 2019.
We are looking for expressions of interest from BISA members and our supporters who have innovative ideas around showcasing what International Studies can offer students and the wider society. These will mostly be sixth formers (years 12 and 13) but some students aged 14+ do also attend. A video of the previous Schools Day, curated by Dan Snow and some of the activities can be seen below and we also link to talks that were selected.
Representing BISA and the discipline, we would like to receive proposals giving details, for example, of a talk you might give, videos you might create in the style of talking heads to be displayed around the venue, a creative idea like a performance, resources/objects or activities you might share with students at a BISA stall or any other ideas you might have.  
If selected, you will be fully supported by BISA and the British Academy who are particularly keen to involve those subjects not usually taught in schools. We will cover your travel costs, and additionally accommodation if you are based more than two hours away from the venue.
To apply, please send a brief outline of your ideas, no more than two pages at this stage, as well as details of those participating. The outline should be sent to the BISA office by 5pm on Wednesday 8 December 2021: office@bisa.ac.uk
Please note that the schools day is on the final day of the BISA annual conference in Newcastle (Friday 17 June). Therefore if you will be attending the conference you would be hard pressed to be in two places at once!
Previous schools day and selected talks
To give you an idea of what to expect, take a look at the videos embedded or linked to below.