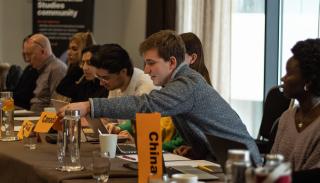 First BISA climate negotiation simulation takes place
This article was published on
Friday 4 March 2022 saw the first BISA-sponsored climate negotiation simulation take place in Birmingham.
Organised by BISA President, Professor Mark Webber (University of Birmingham), the student experience event involved six UK universities with 21 countries or 'parties' represented. The aim was to engage students in a topical and important issue, and particularly to raise their awareness of the politics of climate change.
The simulation involved negotiations aimed at reducing global emissions of C0², agreeing a climate transition fund, and drafting a final declaration on the meeting outcome. All decisions required consensus and therefore tested the students' communication and negotiation skills. You can download a copy of the final declaration, which gives a short summary of what was agreed, at the bottom of this page.
Andy Conner, a participant from Staffordshire University who represented the Association of Small Island States, said:
"Before we came we did some preparation which included getting on top of the numbers. This was a bit challenging at first. Then during the simulation we've used our negotiation skills. The best thing about the day was the interaction with the students from other universities who we wouldn't normally get to meet."
The climate negotiation is modelled on a simulation designed by Mark Webber, and run in Birmingham schools as part of the November 2021 ESRC Festival of Social Science.
Mark said:
"It has gone extraordinarily well, and we achieved more than I expected. Sometimes these things can fail to have a successful outcome, but the students have been mature, creative and flexible in their approach to the task."

Vailea Pambrun, a student from the University of Warwick who represented the USA during the simulation, said:
"I am particularly pleased with the efforts made by all the delegates today. I think it means that a lot of people in the room care about climate change. I would like to thank the chairs for their time too."
Awards were given at the end of the day for outstanding and distinguished delegates, as well as best delegation. These went to:
Distinguished delegation: Staffordshire University representing the EU
Outstanding delegate awards: Vailea Pambrun (University of Warwick), Valeria Morici (University of Birmingham)
Distinguished delegate awards: Mukti Singh Thakur (University of Birmingham), Benjamin Georges-Picot (University of Warwick).
All students will receive a certificate of participation.
The universities who took part were:
Aston
Birmingham
Leicester
Liverpool John Moores
Staffordshire
Warwick
You can find out more about the negotiations as they happened by searching #climatesim on Twitter. You can also watch a short video from Theo J Mirfin, a student from the University of Leicester, to find out more about the preparation for the day.