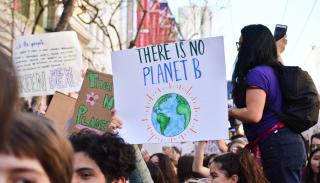 Introducing our undergraduate climate negotiation simulation
This article was published on
In 2022 we will be running a new student experience event designed to raise awareness of the politics of climate change, and put theory into practice – a climate negotiation simulation.
The climate negotiation simulation will be for undergraduate students and take place in central Birmingham on 4 March 2022 (postponed from 21 January due to the latest Covid advice).
The event is intended to raise awareness of the politics of climate change. Students will engage in talks on reducing greenhouse gas emissions and setting up a climate finance facility. They will represent some of the existing parties to climate talks (China, India, the EU and the US among others), and will play 'in role', much like Model NATO or Model UN. They will need to work towards agreeing financial and emissions targets. This will take place in addition to our other flagship student event – model NATO – which we will also run again in 2022.
The climate negotiation is modelled on a simulation designed by current BISA President, Professor Mark Webber (University of Birmingham), and run in Birmingham schools as part of the November 2021 ESRC Festival of Social Science. Participating students will receive pre-prepared briefing materials and will be allocated a country-party to represent in the discussions. This will take place via a recorded draw held in January.
The delegates will come from a wide range of universities, with Aston, Leicester, Staffordshire, DMU and Birmingham already confirmed.
BISA Director, Juliet Dryden, said:
"It's fantastic to have this addition to our student events for 2022, particularly given the current focus on COP26. We're extremely grateful to Mark Webber for all the hard work and time he puts in to organising such relevant and beneficial simulations."
We'll be showcasing student preparations prior to the event, and we'll keep you up to date on all the action live via Twitter during the simulation.