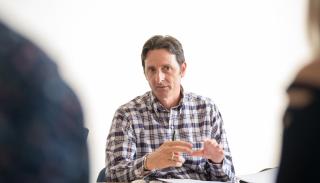 Message from the BISA Chair on Covid-19: we're open, we're active and we are adapting to the 'new normal'
This article was published on
Covid-19 has had an extraordinary impact on our professional and personal lives, and I sincerely hope this message finds you safe and well. The pandemic has had a number of adverse effects upon BISA, but I want to start on a positive note and say how well the Association has adapted, and that we remain as active as ever in radically changed circumstances.
Events
Throughout the lockdown we have been running regular, lively and topical webinars, roundtables, panels and virtual meet-ups on a variety of International Studies topics. We have looked at inclusive online teaching, decolonising politics curricula, and space sustainability, amongst others. We have also worked with the Political Studies Association (PSA) to bring together Heads of Department from across the UK for discussion sessions, and are planning a number of joint events with Chatham House. You can keep up to date with BISA's online programme and register for events on our events page. If you've missed any of our events, you can catch up with them through the BISA YouTube channel.
I'd like to thank all our conveners and speakers, as well as Professors Annick Wibben and Professor Brooke Ackerly, and the International Feminist Journal of Politics who helped to get our virtual events up and running.
COVID-19 resources
Our team, alongside guest academic and publishing contributors, has compiled a repository of resources and opportunities that may make a difference to your teaching and research during this emergency. It includes a weekly news round up and lockdown reading list, as well as articles and resources for online teaching.
Funding
BISA is facing a challenging financial position (more on that below) and has had to respond to the difficulties of organising physical activities. This has meant a repurposing of how we fund our working groups in the current financial year. I have communicated with all working group conveners on what this means for them. BISA remains committed to supporting its working groups and we have offered tailored assistance with an emphasis on online activities until the end of the year.
Other forms of support – including grants for early career researchers and learning and teaching - are under review with deadlines likely to be later in the year. More immediately, we have doubled the money available to PhD students through our Founders' Fund. We know the financial hardship that many PhD candidates are facing as they struggle to finish their PhDs – difficulties compounded by the effects of the pandemic. Applications to the Fund are now open and we have committed to respond within two weeks of receiving a submission. Find out more and apply.
An urgent appeal
Despite all the fantastic work being done to support the development of International Studies, it hasn't been plain sailing. As a result of the conference cancellation this year our membership has dropped by 50%. For many, attending the conference is usually the trigger for a renewal of membership. In its absence, BISA has seen its membership fall to the lowest level for several years.
As a charity, there are limited ways we can raise money, and membership receipts is one of BISA's few income streams. If our membership does not recover, the long-term sustainability of BISA will be under threat. Therefore, I strongly urge you to renew your membership, or join BISA if you can. I speak particularly to senior and mid-level career colleagues who have already benefitted from the Association. Our Vice-Chair, Professor Ruth Blakeley, and Secretary, Professor Kyle Grayson, put out a statement at the end of last month explaining the situation in more detail.
In addition to participating in our new activities, as a member you can also apply for BISA funding and grants, join three of our 29 working groups, access our widely respected journals - Review of International Studies (RIS) and the European Journal of International Studies (EJIS), and obtain discounts of up to 40% on Cambridge University Press titles.
A word on #BISA2021
At the start of the year we were busy organising #BISA2020. We had three days of panels and roundtables confirmed, an austerity debate in the works, an art exhibition launch, Toon run and plenty more. It was a sad day when we took the decision to cancel the conference. But we were not alone – all academic professional associations acted likewise, and many of you will have had to abandon plans to travel to the UACES, ISA and EISA meetings. 
We are planning to hold #BISA2021 in Newcastle-upon-Tyne, but, if that becomes impractical, we are committed to hosting a full conference virtually. Look out for more details in the autumn. In addition, we are making plans to hold #BISA2022 in Reading, and #BISA2023 in Glasgow.
Meanwhile, during the week the 2020 conference would have taken place we'll be announcing the winners of our annual awards and prizes, and hosting a winners' virtual event shortly after.
Support through uncertain times
We are facing uncertain and challenging times. Many of you, I know, will be juggling multiple new commitments and facing up to a very different pattern of work as universities and other institutions reorganise themselves for the months ahead. You can rest assured, however, that the BISA community will come together and do its very best to be a source of support. Our working groups will continue to provide a dynamic and proactive environment for focused research, and our Postgraduate Network (PGN) will continue to serve as the 'go-to platform' for PhD students and ECRs in International Studies.
I'd like to finish by saying thank you to all our members, our working groups, my fellow BISA officers as well as the BISA staff team and Executive Committee, without whom this work could not be achieved.
If you have any suggestions on how you think BISA can support the community of scholarship in International Studies, please do get in touch. I can be reached on: M.A.Webber.1@bham.ac.uk
Mark Webber – BISA Chair