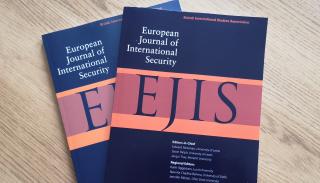 An update from the European Journal of International Security
This article was published on
In 2022, The European Journal of International Security (EJIS) continues to publish research at the cutting-edge of security and international relations. In the latest blog, Larsson revisits 'The Swedish Covid-19 strategy and voluntary compliance: Failed securitisation or constitutional security management?' reflecting on the ongoing Covid-19 pandemic.
This month, the editorial team is delighted to spotlight a number of articles available in FirstView, ahead of the publication of Volume 7(1) which is a special issue on 'Military Organizations in a Changing World: How New Operational Experiences Shape Civil-Military Relations'. Wilén and Strömbom map the military's core roles in a changing security environment, whilst Harig and Ruffa explore civil-military relations, providing an exploratory framework of the 'pulling' that takes place in civil-military relations. Meanwhile, drawing on primary material and historiography of France's postwar foreign policy, Byun explains the relationship between robust security cooperation and unbalanced distributions of power between prospective regional security partners.
The editorial team is also pleased to share that the two most recent EJIS articles are available in Open Access: Mross explores peaceful democratisation, looking to external democracy aid as a mitigating factor for negative effects on the process, whilst Egeland, Fraise and Taha navigate an exploration of the assumptions of nuclear security studies in 'Casting the atomic canon: (R)evolving nuclear strategy.'
Finally, for those based or trained in global regions underrepresented in the fields of International Relations and security, don't miss the opportunity to gain pre-submission feedback on your research. Contact F.Petrizzo@leeds.ac.uk to learn more.
Stay up to date with EJIS news and research by following @EJIntSec on Twitter.