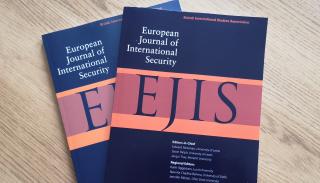 An update from the European Journal of International Security
This article was published on
There's lots going on this month for our journal European Journal of International Security (EJIS). Read on to find out about the latest FirstView articles, a new issue and the ISA conference.
New articles and issue
In March 2023, the EJIS editorial team is pleased to share a number of new research articles. In their article, Bower and Lantis show how US administrations have used diplomatic strategies and US tactics to preserve the international legal framework governing outer space, and to protect US national security priorities.  In addition, Ding and Dafoe examine the impact of electricity on military affairs and the relevance of this for contemporary debates about artificial intelligence in their article titled 'Engines of power: Electricity, AI, and general-purpose, military transformations. In his article, Long explores the securitisation of disease outbreaks and its dependence on global surveillance networks and genetic technologies.  Finally, Spindel explores the role of junior partners when it comes to Great Power leverage in the article 'Arms for influence? The limits of Great Power leverage.'
In addition to these recently published articles, our latest issue, EJIS Volume Volume 8 Issue 1 is available to view online. This issue features seven research articles on topics from foreign fighter repatriation and decision making to the use of force, cyber capabilities and state violence. Access the issue.
EJIS at ISA
The EJIS editorial team is delighted to be attending the ISA conference in Montréal, in March 2023. Edward Newman and Jason Ralph will be contributing to panels during the conference, and there will also be an opportunity to learn more about publishing with EJIS at the 'Meet the Editors' roundtable. Click here for more information. 
The BISA at ISA 2023 Hub features a number of selected EJIS articles related to BISA sponsored panels at ISA 2023.
Pre-submission feedback
EJIS welcomes high quality research from around the world, across all areas of international security. For those based or trained in global regions underrepresented in the fields of International Relations and security, don't miss the opportunity to gain pre-submission feedback on your research. Contact F.Petrizzo@leeds.ac.uk to learn more.
Follow us on Twitter @EJIntSec to keep up-to-date on upcoming publications and events.