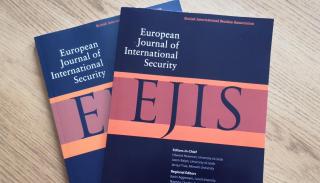 An update from the European Journal of International Security
This article was published on
There's lots going on this month for our journal European Journal of International Security (EJIS). Read on to find out about the latest FirstView articles, a new issue, EJIS at the BISA conference and the EJIS-CGSC 2023 conference.
New articles and issue
In May 2023, the EJIS editorial team is pleased to announce the latest EJIS issue, Volume 8 Issue 2. In their article, Micheaelsen and Thumfart investigate digital transnational repression, political exiles and host state sovereignty. Paterson's article explores how asylum and refugee sector NGO's contest the 'security-migration' nexus. Meanwhile Kruger investigates the emancipatory potential of resilience, and Jarvis examines the shift from Responsibility to Protect (R2P) towards atrocity prevention, and its implications for the link between human rights and international peace and security. In their article Mumford and Carlucci explore hybrid warfare and the study of ambiguity, whilst Veilleux-Lepage, Phelan and Lokmanoglu explore the relationship between gendered online spaces and women's 'everyday practices' in extremist movement.  Finally, Young analyses current security assumptions and their implications for the assessment of stratospheric aerosol injections in 'Considering stratospheric aerosol injections beyond an environmental frame: The intelligible 'emergency' techno-fix and preemptive security.' 
EJIS at BISA 2023
Members of the EJIS team will be in Glasgow for the BISA 2023 conference. Find out more about EJIS sponsored panels and roundtables, as well as opportunities to meet the editors and registration on the conference website.
EJIS-CGSC 2023 Conference
The EJIS-CGSC 2023 Conference - Security in a time of 'polycrisis' will take place on 18-19 May. There's still time to register.
Pre-submission feedback
EJIS welcomes high quality research from around the world, across all areas of international security.
For those based or trained in global regions underrepresented in the fields of International Relations and security, don't miss the opportunity to gain pre-submission feedback on your research. Contact F.Petrizzo@leeds.ac.uk to learn more.
Follow us on Twitter @EJIntSec to keep up-to-date on upcoming publications and events.