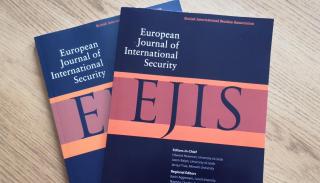 An update from the European Journal of International Security
This article was published on
There's lots going on this month for our journal European Journal of International Security (EJIS). Read on to find out about the latest FirstView articles, a new issue and blog, and EJIS at the BISA conference.
New articles and issue
In June 2023, the EJIS editorial team is pleased to share a number of new research articles. Distler and Tekath explore how knowledge enters governance routines following the establishment of peacebuilding operations in their article 'Knowledge and the governing of the interventionary object Mali in the German parliament'. In 'Migration governance in civil war: The case of the Kurdish conflict', Adamson develops a framework for understanding how migration is instrumentalised in civil war. Meanwhile in their article, da Silva, Bamber-Zyrd and Lemay-Hébert build on discourse analysis to explore the Islamic State's strategic narrative of governance and peacebuilding. Ferhani and Nyman introduce interpretive photography as method, bringing together two ethnographic projects focused on everyday security in China and the UK. Finally, in his article 'Introducing the 'conceptual archive': A genealogy of counterterrorism in 1970s Britain', Livesey introduces the 'conceptual lens' as a way of thinking about past-present interpellation and as a tool for doing genealogy.
Blog
In the latest EJIS blog 'Solar Geoengineering: Political and Security Challenges of 'Dimming' the Sun on the Horizon', Danielle Young introduces her recently published EJIS article. She outlines a number of security and political issues raised by Stratospheric Aerosol Injections, and highlights the need for greater attention to these challenges within IR.
In the latest EJIS conversation, EJIS Editor Jason Ralph speaks to Jeffrey Ding about his article 'Engines of power: Electricity, AI, & general purpose, military transformations', co-authored with Allan Dafoe.
EJIS at BISA 2023
Members of the EJIS team will be in Glasgow for the BISA 2023 conference. Find out more about EJIS sponsored panels and roundtables, as well as opportunities to meet the editors and registration by visiting the BISA conference webpage. 
Pre-submission feedback
EJIS welcomes high quality research from around the world, across all areas of international security. For those based or trained in global regions underrepresented in the fields of International Relations and security, don't miss the opportunity to gain pre-submission feedback on your research. Contact F.Petrizzo@leeds.ac.uk to learn more.
Follow us on Twitter @EJIntSec to keep up-to-date on upcoming publications and events.