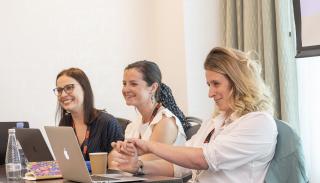 A year in working groups – 2022/23
This article was published on
Working groups are at the heart of BISA, so each year we bring you a summary of their activities over the previous 12 months. We hope this shows the strength, depth and hard work of each of the working groups. We are extremely grateful to the conveners who are all volunteers.
Members: 143
The AIS Working Group held two roundtables: 'Piecing the peace together: hybridisation processes and the local' with the University of Reading, the University of Analanjirofo, Dara Azael and the NGO Arake; and 'Africa's imprints: Historicising African contributions to International Relations', a follow-up roundtable in preparation for a special issue in collaboration with the IR and Diplomacy section of the South African Association of Political Science. Other events included a virtual book launch of Humour and politics in Africa: Beyond resistance and the methodological training event aimed at PGRs entitled 'Methodologies in International Relations: Doing systematic reviews'. A blog miniseries was published on African state architecture by Innocent Batsani-Ncube. Our AGM was held virtually on 4 July 2023.
Members: 51
The Astropolitics Working Group (AWG) was formed last year by founding conveners Dr Bleddyn Bowen and Dr Sarah Lieberman. In December 2022 they convened the first AWG General Meeting with approximately 20 attendees. The first AWG Annual Lecture was delivered in February 2023 by Professor Kai-Uwe Schrogl of the European Space Agency. The lecture's content on European space policy institutions and the need and potential for space policy skills was well-pitched to our younger professional audience. In March 2023, AWG co-convener Dr Bleddyn Bowen gave a book talk and was joined by Dr Aaron Bateman, Space Policy Institute, George Washington University, as discussant. Then, in May 2023, AWG co-convener Sarah Lieberman organised the virtual event 'The future of UK space', featuring a roundtable of guests from the UK space industry. In addition to these events, the group have kept their website section up to date - including an introductory news article and mission statement and promoting an ISPL practitioner course.
Members: 118
Under new conveners Professor Gaynor Johnson and Dr Jayne Gifford, activities throughout the year have centred around prizegiving by the British International Historians Group. A successful candidate was selected and awarded the 2023 International History Review Award, with the previous year's recipient publishing an article in the International History Review. The 2022 Michael Dockrill Thesis Prize was also awarded in this period to Hamish McDougall of the LSE.  
We were unable to host any events this year or sponsor a panel at the BISA 2023 Annual Conference. We do have, however, a number of initiatives in the pipeline:
British International Historians Group - The National Archives event. This event will be an archives skills workshop with a focus on early-career researchers.
Compose a panel for the 2024 BISA Conference to be held in Birmingham.
British International Historians Group Conference, September 2024. Knowledge exchange will be a key focus of this conference.
Members: 334
The CPD Working Group held two public events. The first was a mentorship/ECR research in-person workshop. The second was a live-streamed public event, co-sponsored with KCL and QMUL, including both academics and activists/practitioners. In addition, our 'Refusing Carcerality' project – investigating the ways carcerality operates in multiple sites and interlocutors in intimate ways beyond states and towards vulnerable populations, including sites of resistance to it – has created futher public engagement opportunities, with three main activities being organised under this umbrella:
Annual mentorship workshop with early-career scholars
Two roundtables at the ISA Annual Convention
A public talk connecting activists and academics working around the themes of carcerality, policing, empire, race and organising collectively against them, at local and global scales (co-hosted with King's College London and Queen Mary University of London)
Our 2022/23 AGM was held during the BISA 2023 Annual Conference. Future plans include our blog project with the incredible support of our project administrator, Sarah Gharib Saif, planned to be launched later in the year. Finally, our 2022/23 Early Career Paper Prize in collaboration with Review of International Studies (RIS) received 17 thoughtful and rigorous submissions (up from seven last year!). The winner was Christopher Choong Weng Wai (University of Warwick) for 'Racial/Gender Capitalism in Malaysia: Contested Scripts, Muted Repertoires', with honorable mentions for Sara Abdel Ghany (University of Warwick) and George Ygarza (University of California, Santa Barbara).
Members: 179
The group held four events, including three book roundtables: 'Care and the Pluriverse', 'The Civil Condition in World Politics', and 'Praxis as a Perspective on International Politics'. Our fourth event was a postgraduate masterclass in International Political Thought entitled 'The Trouble with Critique', co-organised with the University of St Andrews.
Members: 162
Our annual conference was held at the University of Warwick in September 2022 with a programme of many interesting and critical panels, as well as an artistic exhibition by TrueForm Projects and a keynote speech from (at the time) BISA Chair Ruth Blakeley. In addition, we held 12 panels and roundtables across the BISA 2023 Annual Conference, and 4 across the EISA Annual Conference in Potsdam. Thank you to previous conveners Alice Martini and Raquel da Silva for their hard work and dedication, with Amna Kaleem and Alice Finden currently in the roles.
Members: 149
The EPIR Working Group held a virtual early-career and PhD workshop entitled 'The emotional politics of social movements in global politics', giving 35 attendees the opportunity to present their work, share ideas, network, and receive feedback from expert senior discussants. Additionally, our new International Relations Thesis Prize was introduced in tandem with Brill's Critical Emotion Studies book series. The prize is geared towards recent PhD graduates working and writing on emotions in politics and IR. The winner and honorable mention were announced in September, congratulations to Jamal Nabulsi (University of Queensland) and Jack Bonnamy (University of St Andrews) respectively. Brill has been in touch with both recipients to discuss the logistics of submitting book proposals. As the Brill editors would agree, this has been a rewarding collaboration so far and builds a solid foundation for future events.
Members: 134
Our first event of the academic year was a book launch for James Souter's Asylum as Reparation: Refuge and Responsibility for the Harms of Displacement. Our second event was a discussion with the author of Lea Ypi's widely acclaimed book Free: Coming of Age at the End of History, with Professor Catherine Lu (McGill University) acting as discussant. Our AGM was held at the BISA 2023 Annual Conference. There is a large appetite for an in-person event, with an emphasis on career development in our sub-field as well as standard intellectual exchange.
Members: 131
The European Security Working Group held two events over the course of the year, with a book talk in November 2022 on Nele Marianne Ewers Peters' edited volume on NATO, and our annual workshop in January 2023, entitled 'The Ukraine War and the remaking of European security'. The workshop was run in a hybrid format at University College Cork in Ireland. We also organised around 6-7 panels on European Security at the BISA 2023 Annual Conference, with our AGM also taking place there.
Members: 244
In a busy year, seven events were held, with guest speakers ranging from the Armenian Ambassador to the United States, H.E. Lilit Kamo Makunts, to the President of the Executive committee of the Syrian Democratic Council, Îlham Ahmed. The head of the BBC High Risk News Safety Team, Tim Moffat, also featured in our event 'Foreign policy in times of conflict: Research without field work'. Additionally, we hosted invigorating academic discussions around the importance of expanding research beyond university borders through 'Understanding Emerging World (Dis)Orders: Research networks and new paradigms in Foreign Policy research', and the political efficacy of disseminating disinformation via 'Dis(information) as a foreign policy tool'. Our final event of the year was a book presentation on 'Foreign policy aspects of international law' by Kaleem Hussain. We have also sought new blog submissions from our members, and Daniela Irrera was appointed as the group's co-convenor in May 2023.
Members: 197
The GIRWG held a well-attended event in November 2022 entitled 'Feminist solidarities in times of crises'. This included two roundtables highlighting the ways in which recent crises require the mobilisation of gendered narratives and result in gendered implications, followed by a discussion about building practical mechanisms for maintaining feminist solidarity in difficult times. We also sponsored and co-ran a 'Critical Perspectives on NATO' workshop, hosted and held at the University of Newcastle jointly with the British Academy and Military War Security Research Group. Afterwards, Annika Bergman Rosamond (GIRWG Co-Convener), Laura Sjoberg (GIRWG Co-Convener), Sorana Jude (Workshop Convener), and Katharine A.M. Wright (Workshop Convener) wrote an article describing the event. At the BISA 2023 Annual Conference, we held our AGM and organised a GIRWG dinner.
Members: 39
The Global Health Working Group held an online roundtable in May 2022, entitled 'The Future of (Post)-Pandemic Global Health Security from a Non-European Perspective'. A panel of experts spoke about the changes in the field of Global Health that were underway as a result of the pandemic, bringing together contributions from Anne Roemer-Mahler (University of Sussex), Adam Kamradt-Scott (European University Institute) and Nick Thomas (City University of Hong Kong). A report on the event was written afterwards by co-convenors Christopher Long and Eva Hilberg. We followed this event with a return to in-person workshops through 'Global Health Science, Technology, and Security', organised by Christopher Long and held in May 2023 at the University of Sussex. Another key introduction during this cycle has been a series of six short podcast-style interviews with members of the Global Health community. Each podcast gathers short 'Snapshots' into the research interests and experiences of many of the key investigators in the global health arena.
Members: 83
The GNO Working Group held one main event: 'Wider advances in scholarship beyond the nuclear field' at the University of Aberystwyth in collaboration with Tom Vaughan; alongside seven panels and our AGM at the BISA 2023 Annual Conference.
Members: 141
We held one event: 'Russia's War in Ukraine and International Law'. This was a webinar hosted jointly with the Russia and Eurasia Working Group, featuring Sergey Sayapin (KIMEP, Kazakhstan), Myroslava Antonovych (National University of Kyiv Mohyla Academy, Ukraine), Gerhard Kemp (UWE, UK), and Noelle Quenivet (UWE, UK), chaired by Natasha Kuhrt (King's College London).
Members: 163
We held four events, including two well-attended IPEG Annual Book Prize Lectures used to discuss and celebrate the winning book with the author. Additionally, we collaborated with King's College London to hold our two-day annual workshop in May 2023: 'Building Solidarity in Times of Permacrisis', which was a hybrid event and included a specific panel aimed at early-career Scholars entitled 'Navigating Academia in Times of (Permanent) Crisis'. The two-day workshop gave IPE scholars the opportunity to present their research in an inclusive and supportive environment whilst also allowing ECRs to learn more about the expectations and challenges with respect to publishing, job applications, post-doc funding, and reconciling teaching-intensive posts with research. Importantly, it enabled them to network in person, one of the things ECRs have missed out on most because of the Covid-19 pandemic. A general discussion meeting was also held during this workshop, with suggestions to include a Best Article Prize alongside our usual Book Prize.
Members: 129
The IPMRD Working Group held five panels at the BISA 2023 Annual Conference with a wide variety of engaging papers, centered around topics such as continentally grouped studies in migration and 'The Politics of Diaspora'. A sixth panel was also held in collaboration with the International Studies Association (ISA) entitled: 'Securitisation of migration and beyond: Narratives, practices and the pandemic'.
Members: 189
The IRSS Working Group held three virtual events over this period featuring guest speakers and centered around the topic of: 'Understanding IR as a Social Science'. In November 2022, Dr Rafael Bittencourt (Universidade Federal da Grande Dourados, Brasil)  discussed IR as a space of reproduction of colonialities; in January 2023, Dr Vishwas Satgar (University of the Witwatersrand, South Africa) discussed the planetary challenges that require IR to come to terms with natural and earth relations; and in February 2023 David M McCourt (University of California, Davis, USA) discussed 'Beyond History-as-Data-Set: Theory and history in the social science of International Relations'. Prior to these events, we also organised 'Meet the new IRSS convenors'.
Members: 107
The ISET Working Group held its second annual conference in September 2023 at the Clinton Institute for American Studies, University College Dublin. This in-person event featured panel presentations and roundtables with over twenty attendees-cum-presenters, promoting Social Sciences, Arts, and Humanities (SSAH) research into the impact of emerging technologies, like cyber and AI, on contemporary society and global affairs. Our AGM was also held during the conference on 1 September.
Members: 145
The ISMMEA Working Group held three webinar events. The first was on the politics of Iraq twenty years after the US invasion and the fall of the Saddam Hussein regime; the second on 'Transitional justice initiatives in Turkey' in light of the (at the time) upcoming elections and recent devastating earthquake. After the May 2023 elections, a third event was held on the future of Turkish democracy featuring speakers Galip Dalay, Associate Fellow at Chatham House; Kadir Ustun, Executive Director of the SETA Foundation at Washington DC; Seren Selvin Korkmaz, Executive Director of Istanpol Institute; and Mesut Yegen, Professor of Sociology.
Members: 121
The IIR Working Group held a workshop at Cardiff university entitled 'How do we know? Making sense of 'voids' in Global Politics' organised by co-convener Hannes Hansen-Magnusson. The purpose of the event was to explore a novel theme that would contrast with a topic that the working group had explored prior to Covid (i.e. the role of 'concepts' in IR). Now, the idea was to discuss what global politics would look like if one started with 'nothing'. The aim was to connect these themes and thereby reinvigorate activities in the working group after the pandemic and with a new team of convenors. A secondary aim was to begin work on a joint publication project. Additionally, the Working Group held panels and an AGM during the BISA 2023 Conference, There are current plans for an online event to be held in late autumn, after being postponed from the spring.
Members: 103
The IR2P Working Group held its hybrid annual conference at the University of Leeds in November 2022, entitled: 'Reimagining the Responsibility to Protect to Meet New Challenges'. Jointly sponsored by BISA, the University of Leeds, and the European Centre for the Responsibility to Protect (ECR2P), the conference was inspired by recent global problems such as the Covid-19 pandemic and the war in Ukraine generating debates about the role of the responsibility to protect in meeting these new challenges. A write-up of the conference was published, providing an overview of the research presented and announcing the appointment of Sam Jarvis as a new co-convener. We also held panels and an AGM at the BISA 2023 Annual Conference.
Members: 83
We held a virtual roundtable in April entitled 'Civil Society and the Pandemic: Perspectives from South Asia'. This event brought together practitioners and academics tackling the challenges of restricted civic space and reduced funding, including representatives from Oxfam India and National Foundation India.
Members: 165
We held a two-day conference at the Open University in February entitled 'Multidisciplinary Futures of United Nations Peace Operations'. This hybrid featured 19 papers presented across five panels and three keynote presentations from: Dr Sukanya Podder (King's College London); Katia Coleman (University of British Columbia); and Dr Fernando Cavalcante from the United Nations. Following the conference, a blog round-up was published. During our AGM in October, Nancy Annan was elected as a new co-convener.
Members: 137
The PVCTA Working Group organised two online events, part of the online seminar series on emerging research themes in areas that fall under the group's remit. The first event featured Anastasia Shesterinina (University of York) and Yvan Guichaoua (University of Kent) engaging in a discussion on understanding civil wars and the state of the discipline. The second event featured Dr Cerwyn Moore (University of Birmingham) and Dr Nir Arielli (University of Leeds) engaging in a dialogue centered around the 'foreign fighter' phenomenon. We also organised six in-person sessions featuring 29 panelists for the BISA 2023 Annual Conference. During this period, Dr Cerwyn Moore and Dr Chi Zhang joined Annamaria Kiss as co-conveners.
Members: 165
PPWG held three events. One was 'Demystifying the academic publishing process', a virtual event with the PGN aiming to 'lift the lid' on academic publishing in journals to answer questions ECRs are often afraid to ask, and give them the confidence and tools to consider publishing their own work. We used the recording of a virtual event roundtable discussing contemporary issues in International Studies as the basis for the first episode of the PPWG Politics in Brackets podcast.
Members: 90
The RES Working Group held a joint online event with the International Law Working Group on the theme of 'Russia's war in Ukraine and International Law'. We also sponsored six panels and one roundtable at the BISA 2023 Conference. The end of the term of Dr Marcin Kaczmarski falls within the 2023/24 academic year and a new co-convener, Dr Stephen Hall, has stepped forward with the intention to replace him.
Members: 51
The SEE Working Group held a virtual event in October 2022 entitled 'Worlding from South East Europe, Remaking International Relations'. This event facilitated networking, peer feedback on developing research, and supported panel development for the BISA 2023 Conference, at which we hosted five panels and one roundtable. Our AGM was also held at the conference and featured the introduction of new co-conveners Elena Stavrevska and Mate Subašić, taking over from Lydia Cole and Katarina Kušić in January 2024. Lydia and Katarina have thoroughly enjoyed their time as convenors and are pleased to leave the group in such capable hands. Finally, we have also published multiple blogs on our section of the BISA website throughout this period, including Koen Slootmaeckers on the banning of EuroPride, and Iva Vukušić on Serbian paramilitary war crime trials.
Members: 161
The annual BISA US Foreign Policy Working Group Conference 2023 was originally scheduled for May 2023, but due to the convenor moving institutions from the University of Warwick to Queen Mary, had to be rescheduled for 14-15 September 2023. The conference had 43 registered attendees, and 42 participants in attendance. The event was in-person.
Members: 220
The War Studies Working Group had an active presence at the BISA 2023 Conference, sponsoring both Sir Hew Strachan's keynote speech and Marc Conaghan's lunchtime talk on the Glasgow blitz. Co-convener James Patton Rogers was also interviewed by BISA Director Juliet Dryden regarding his research on drones and work with the UN Security Council, particularly in light of the drone usage in the Russo-Ukrainian War.