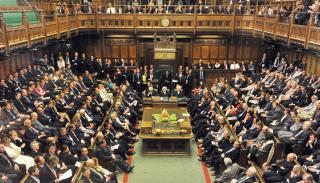 Getting your research into Parliament
This article was written by
Danielle Beswick (University of Birmingham)
This article was published on
Danielle has worked with Select Committees to understand and improve connections between academic researchers and parliament. Here she discusses the best ways to get your research into Parliament, and how to achieve effective academic engagement with Parliaments to make the process a success.
It's a familiar sight on the nightly news. Members of Parliament sitting around a horseshoe-shaped table questioning Government Ministers, civil servants, industry leaders and charity representatives on the issues of the day. On topics ranging from drone warfare to the UK's role in disaster response to UK soft power and preventing sexual abuse in the aid sector, MPs rely on evidence and expert testimony, including academic research, to scrutinise Government policy and spending.
Since 2018 I have worked with Select Committees (cross-party groups of MPs who scrutinise specific Government Departments or areas of policy) to understand and improve connections between academic researchers and parliament. Research I conducted across three UKRI-funded projects, two in collaboration with Dr Marc Geddes (University of Edinburgh) and one individual fellowship, found that MPs and the Parliamentary staff who support them view academic research as having specific advantages compared to research produced by other organisations. Academic research was often described by our interviewees as 'robust', 'neutral', and 'reliable', and considered less likely to be aimed at pushing a particular position compared to research produced by think tanks, charities or the private sector. This creates an opportunity for academics, at all career stages, to bring their research expertise and experience to Parliament. Our research suggested that doing so, whether by submitting written or oral evidence to committees, giving private briefings to individual MPs, or groups such as All Party Parliamentary Groups, can help improve MPs understanding of key policy issues and support evidence-based scrutiny. However, our research also identified some key barriers to effective academic engagement with Parliaments.
Based on research conducted across the four UK legislatures we have produced reports and blog posts with recommendations for legislative staff and Universities. These focus on how to better connect academics and legislatures, ensuring that high quality academic research, from a diverse range of institutions and researchers, can inform scrutiny. Based on this there are specific tips I would like to share with researchers who are interested in engaging with Parliament:
1. Decide what you want to say – Not all aspects of our research are relevant for Parliament. MPs and legislative staff are also time-poor and will generally be more interested in your findings than the theoretical framework. Try to summarise in a few sentences: what is it specifically that your research demonstrates? What existing assumptions or expectations might it challenge? What evidence is it based on?
2. Be clear about why it matters – This is often missing from academic submissions, but it is crucial. Why should the MP or group you are reaching out to be interested in your research? What does it mean for UK policy, or for scrutiny of policy? Remember: the UK can also learn from other countries' experiences, so research that identifies lessons learned in other countries is valued as well as UK-based research.
3. Find your audience – Legislatures across the UK, and indeed globally, present different entry points for academics. These might include:
Standing cross-party Select Committees, which mirror Government departments or address cross-cutting issues (for example the UK Environmental Audit Committee);
Temporary Committees set up to scrutinise specific Bills;
Parliamentary libraries that produce publicly available briefing documents, and
All Party Parliamentary Groups (APPGs) focused on specific topics. In the UK Parliament there were 129 specific country focused APPGs registered in 2021, with other thematic groups on topics ranging from Climate Change to Global Security and Non Proliferation.
In the UK Parliament, MPs' websites also give details of their country and thematic interests, as well as their membership of groups and committees. Finding your audience means spending time on legislature's websites to identify what groups exist and to review their current and recent areas of interest, considering where your research can add value.
4. Identify resources and support – Legislatures are complex institutions and navigating them can be daunting. The good news is that there is support available to guide you through this. The UK Parliament 'Parliament for Researchers' training provides an introduction to opportunities to engage and advice on how to do it well. Many universities also now have professional services staff who can advise on existing relationships with local MPs and with legislatures more broadly, as well as connecting you with other academics who have successfully worked with Parliament in the past.
5. Be clear and keep it short – Whether you are responding to a Select Committee call for written evidence, speculatively contacting an APPG to offer a research briefing, or writing to an MP to urge them to ask a question in Parliament related to your research, clarity and brevity are crucial. The purpose of your submission should be clear from the start, and it is important to make reference to your credentials and research experience. If a longer submission is needed, for example to explain a complex issue or provide more detailed examples and evidence, then an initial executive summary highlighting your key messages and relevance for the audience can help keep the audience engaged. 
6. Raise your profile – When contacted by a new academic researcher, legislative staff will often look online for more details about them. Having an up to date webpage and social media presence can help ensure you are visible and can showcase your expertise. Having short recordings of yourself speaking in public on your website, for example at a conference or just discussing your research area, can also help them to see how you communicate your ideas. This helps to reduce any concerns they might have about inviting an unknown researcher to brief MPs.
7. Be persistent - Not every approach you make will lead to an invitation to give evidence, to provide a briefing or to being cited in an official report. There is nevertheless value in the process of identifying potential audiences for your work, and partners for future knowledge exchange and impact. Reaching out to parliaments with your research can also help to build networks for grant applications and research activities, as well as policy communication skills.
Good luck!
Image licensed under the United Kingdom Open Government Licence v3.0 (OGL v.3).