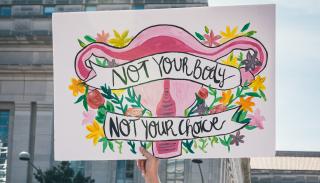 Narrating reproductive justice: feminist imaginaries, solidarity and change
This article was written by
Hannah Partis-Jennings (Loughborough University)
This article was published on
Hannah Partis-Jennings discusses the findings of her BISA-sponsored research into reproductive justice.
Growing up in Ireland, where abortion access was constitutionally prohibited in most circumstances, with knock on consequences for maternal health and bodily autonomy, means that reproductive justice holds a particular personal and political meaning for me. The issue of abortion access sat like a relentless cloud over the country for decades, a constant reminder of the grim state power over gendered bodies and the heavy weight of patriarchal history that still bore down on the shoulders of women and pregnant people. The movement to repeal the eighth amendment to the constitution which held this prohibition in place, along with a previous popular movement to legalise same-sex marriage in Ireland, offered a particular kind of hope, a sense of change, and a throwing off of historically entrenched, gendered shame and trauma that resonated beyond the borders of the country.
In recent years, as an academic, I have come to be interested in the comparative dynamics of reproductive justice activism, how grassroots organisers, campaigners and civil society work in different contexts – how they collaborate, show transnational solidarity and echo feminist strategies across borders. A particular curiosity about the nature and limits of feminist policy work, especially at a moment where the notion of a feminist foreign policy has garnered the interest of states and scholars alike, has led me to consider the practice of personal storytelling about reproductive access as a site of resistance and policy change advocacy that chimes with feminist ways of working, thinking about the political, and knowing the world.
Thanks to the BISA Early Career Small Grant, I have been able to take these interests forward and initiate a project exploring grassroots storytelling practices as a kind of feminist policy work, which can potentially trouble the boundaries of policy in the traditional sense and challenge state narratives, especially in contexts where the bodily autonomy of pregnant people has been or is still rigidly policed. Though disrupted by COVID-19, the project has included online interviews with a range of civil society actors, activists and artists who work on or have contributed to reproductive justice campaigning in Ireland, Northern Ireland, Poland, and Malta. These contexts have either had, or still have, state prohibitions on abortion access with damaging consequences for women and pregnant people, linked to deeply patriarchal politics. The words and stories of these participants have been invaluable and deeply thought-provoking, and I am grateful for their time and contribution to the project, not to mention their vital work. I have also collected a Twitter dataset, conducted a discourse analytical study of different storytelling sites, and attended a range of relevant events with activist experts.
Building on a subfield of feminist work on abortion, reproductive rights, bodily autonomy and particular kinds of nationalism, the research has provided me with insight into the intersectionality of reproductive access, and into the nature of personal storytelling, long a feminist social movement praxis and area of exploration and meaning making for feminist scholars. It has allowed me to explore and to write about the potentially homogenising effects of storytelling, for instance how it can flatten out experience, depoliticise an issue or depict a 'good victim' in need of protection, erasing the complex realities of reproductive healthcare. Within this I have considered the susceptibility of some stories to what Sujatha Fernandez has called 'neoliberal capture': the channelling of the curated personal narrative away from a politics that questions structural injustice. While at the same time and following the insights of feminist scholars who have pointed to the importance of narrative in the discipline of International Relations, spotlighting storytelling as a vital site of policy(un)making, political complexity, and resistance that draws on the visceral and the emotional in meaningful ways, and tracks between the everyday, the state level and the international.
Though my timeline has been altered by the pandemic, I have presented the research at the International Feminist Journal of Politics Annual Conference and the project has contributed to my work within the wider remit of feminist policymaking. As part of this, along with Clara Eroukhmanoff at London South Bank University, I am editing a volume titled Feminist policymaking in turbulent times: critical perspectives, under contract with Routledge in the series edited by Laura Shepherd - Routledge Studies in Gender and Global Politics. The volume brings together a wonderful group of academics and practitioners to evaluate and reimagine feminist policymaking. It brings into confluence considerations around the key critiques of white, liberal, state-based feminism as well as the importance of decolonial thought, and the rise of both anti-genderism (the rejection of gender as a social construct which is often seen alongside homophobia and transphobia) on the one hand, and feminist foreign policy on the other. The volume also incorporates different areas and disciplines including political theory, law, security, history, healthcare, and economics. My chapter in the volume will draw on my BISA-sponsored research to explore grassroots storytelling projects centred on the experiential and the embodied within wider reproductive justice movements as a mode of feminist policymaking, and indeed, policy unmaking. We aim for the volume to be a significant touchstone for those in both academia and practice to engage with questions around when and where 'policy', broadly understood, can be feminist, and what the limits and possibilities of this may be.
In terms of the future development of the project – recent events, and debates around the world, including in Poland, the US and Argentina, demonstrate the importance of the politics of reproductive justice in our time, and the project will continue to explore how the use and circulation of storytelling practice sits within this politics. Conducting some of the travel that was unavailable to me due to the pandemic will also allow me to further pursue questions around the memorialisation and archiving of personal stories about reproductive healthcare access and the transnational dynamics of reproductive justice movements, including how the international is imagined through personal storytelling projects. I am grateful to BISA for the support that has led to this work and thank them for continuing to invest in the scholarship and ideas of early career academics.