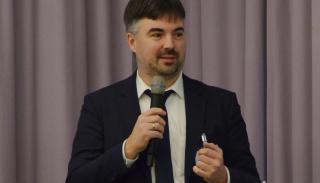 Review of International Studies Best Article Prize - Daniel Lambach in discussion
This article was published on
At BISA 2023 in Glasgow, we announced Daniel Lambach as the winner of the Review of International Studies (RIS) Best Article Prize for 'Space, scale, and global politics: Towards a critical approach to space in international relations', Review of International Studies, 48(2): 282-300. Here Daniel discusses his prize-winning article with RIS editor Martin Coward.
The RIS Best Article Prize is awarded annually by the editorial advisory board of our journal for the best article published in the previous year's volume of the journal.
The judges noted:
"This is a well-written article that addresses an important conceptual issue relevant to many different areas of IR scholarship. The author engages with and effectively translates relevant work in geography, sociology, and anthropology to present an easily accessible yet sophisticated heuristic model that advances our ability theorise and analyse spatial questions. The approach expands our spatial vocabulary beyond territory to acknowledge alternative spatial forms (e.g. place, scale, network, body and landscape) and encourages inquiry about how different forms of space emerge, are reinforced, and interact in a given context. Throughout the manuscript, Lambach acknowledges the 'pluralism of contemporary IR' with both explicit and implicit references to many different theoretical perspectives and substantive fields."
You can read Daniel's full article free, thanks to Cambridge University Press. DOI: https://doi.org/10.1017/S026021052100036X
Abstract
Space matters for global politics but the treatment thereof in International Relations (IR) has been uneven. There is broad interest in spatial aspects across many research communities but only a nascent theoretical discussion and little cross-field communication. This article argues for a fuller engagement of IR scholars with sociospatial concepts and proposes a spatial approach to global politics based on four essential dimensions: a spatial ontology, the constructedness of space, a scalar perspective, and the interaction of materiality and ideas. As one possible way of integrating these aspects into a more specific concept, the article elaborates a framework of spatial practices and uses the example of Arctic Security research to illustrate the upsides of such a spatial approach for IR research.