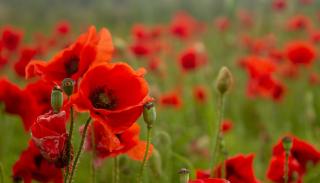 Review of International Studies Best Article Prize - Maria Mälksoo in discussion
This article was published on
At BISA 2022 last month we announced Maria Mälksoo as the joint winner of the Review of International Studies (RIS) Best Article Prize for 'Militant memocracy in International Relations: Mnemonical status anxiety and memory laws in Eastern Europe' (Vol 47, No 4). Here Maria discusses her prize-winning article with RIS editor Martin Coward.
The RIS Best Article Prize is awarded annually by the editorial advisory board of our journal for the best article published in the previous year's volume of the journal.
The judges said of Maria's article:
"This is an excellent and timely article, which provides a novel theorisation of the nexus between memory, history and the international system through the innovative concept of 'militant memocracy': an original framework for understanding how states and other actors govern historical memory. In doing so, the article pushes the boundaries of both current memory studies and approaches to international status, by showing the role that internal contestation over memory laws and policy plays both in the formation of memory and in the international social positioning of states. The article unpacks these processes through an empirically rich and nuanced account of memory politics in three states in the CEE region: Russia, Poland, and Ukraine, demonstrating the global political stakes of states' efforts to govern how national histories can - and cannot - be told. The analysis not only shows how memory laws play into status anxiety and status-seeking behaviour, but also draws attention to the exclusions and erasures that ensue.'
You can read Maria's full article free, thanks to Cambridge University Press. DOI: https://doi.org/10.1017/S0260210521000140
Abstract
This article theorises the nexus between mnemonical status anxiety and militant memory laws. Extending the understanding of status-seeking in international relations to the realm of historical memory, I argue that the quest for mnemonical recognition is a status struggle in an international social hierarchy of remembering constitutive events of the past. A typology of mnemopolitical status-seeking is presented on the example of Russia (mnemonical positionalism), Poland (mnemonical revisionism), and Ukraine (mnemonical self-emancipation). Memory laws provide a common instance of securing and/or improving a state's mnemonical standing in the relevant memory order. Drawing on the conceptual analogy of militant democracy, the article develops the notion militant memocracy, or the governance of historical memory through a dense network of prescribing and proscribing memory laws and policies. Similar to its militant democracy counterpart, militant memocracy is in danger of self-inflicted harm to the object of defence in the very effort to defend it: its precautionary and punitive measures resound rather than fix the state's mnemonical anxiety problem.