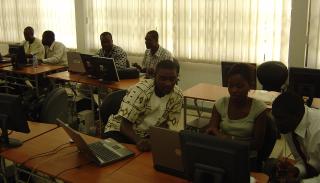 Review of International Studies Best Article Prize - Thomas Kwasi Tieku in discussion
This article was published on
At BISA 2022 last month we announced Thomas Kwasi Tieku as the joint winner of the Review of International Studies (RIS) Best Article Prize for 'The Legon School of International Relations' (Vol 47, No 5). Here Thomas discusses his prize-winning article with RIS editor Martin Coward.
The RIS Best Article Prize is awarded annually by the editorial advisory board of our journal for the best article published in the previous year's volume of the journal.
The judges said of Thomas' article:
"Situated at the forefront of research working to glean crucial insights about IR by recovering Global South, and specifically African intellectual histories, this article offers an original account of the Legon School of IR, which emerged in the early 1960s amidst broader efforts to decolonize knowledge in post-independence Ghana. Through expansive textual analysis, interview research, and grounding in material histories, it draws conceptual lessons from the Legon School, compellingly illustrating what happens when we move beyond an 'add and stir' model of inclusion, towards serious engagement with African and Global South IR as spaces of profound innovation. The article points to lessons from the Legon School's disengagement from IR's so-called "Great Debates," adeptly placing the Legon School in relation to other relevant schools of IR thought (such as Global IR and Postcolonial IR), in order to identify fascinating convergences and divergences between their different approaches and histories. It offers a powerful account of the School's insistence on the value of empirical work for dismantling colonial epistemes, of creating equity-oriented IR knowledge, of relational analysis, of the provision of policy advice in a post-independence context, and of challenging neoliberal pressures on critical scholarship. Many scholars of the discipline talk as if there is one history of IR. There are many. This excellent article offers not only a recovery of one of them, but a pathbreaking analysis of the gains of doing so. Its originality, quality of prose and clarity of argumentation make it a clear choice for IR syllabi and reading lists."
You can read Thomas' full article free, thanks to Cambridge University Press. DOI: https://doi.org/10.1017/S0260210521000395
Abstract
The article explores the Legon School of International Relations (LSIR) which is the research, teaching, and academic programming of International Relations (IR) at the University of Ghana, Legon. The LSIR came out of attempts to decolonise knowledge production, dissemination, and academic programing in Ghana in early 1960s. The article shows that the LSIR is decolonial in theoretical perspective, grounded in southern epistemologies, relational in ontology, qualitative in methodology, practice-based, and it is equity-oriented. Although the LSIR scholarship as a package is distinctive, some of its ideas overlap with the work of several contemporary IR communities in the West. The article highlights implications of the LSIR story for the IR communities in the West and the value of paying close attention to the works of IR centres of scholarship in Africa.