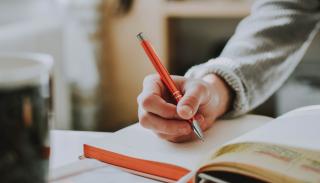 Why should I edit an academic journal or book series?
This article was published on
Why would anyone want to edit an academic journal or book series? For answers, we went to members of the BISA Board of Trustees who have editorial experience: Ruth Blakeley, Helena Farrand Carrapico, Kyle Grayson, Toni Haastrup, Georgina Holmes, and Andrew Mumford. Their answers might surprise you.
1. What did you edit and for how long?
RB: Review of International Studies, Lead Editor (four years) and Critical Studies on Terrorism, Co-editor (four years)
HFC: I'm one of the editors of the UACES/ Routledge Contemporary European Studies book series, which I started contributing to in January 2022.
KG: I was co-editor in chief of Politics (six years), an editor at Critical Studies on Security (eight years), and have just stepped into the role of co-editor in chief of International Political Sociology (until 2027).
TH: I edited JCMS: Journal of Common Market Studies for five years as co-Editor in Chief.
GH: I was an editor for Genocide Studies and Prevention: An International Journal for two years.
AM: I was an associate editor of Political Studies for six years.
"[Editing] allowed me to see the other side of the coin, that of the publishing house and its priorities, which individual authors often do not have access to."

2. What did you learn from your tenure as an editor? What skills did you develop?
RB: Editing both journals helped me get a really good grip on emerging debates, trends, and knowledge in my sub-field of the discipline (Critical Studies on Terrorism) and across the whole discipline (Review of International Studies). I also learned how important a really clear abstract, introduction, and conclusion are in explaining the contribution of your work to others, and this really helped improve my capacity to write better articles myself, but much more importantly (and more rewarding) to effectively mentor and support others. As lead editor, it was also a fantastic opportunity to lead a team and develop several skills around leading and motivating that team, identifying everyone's key strengths and limitations and then harnessing those so that we could be as effective as possible.
HFC: Although it's been only nine months, working as an editor has allowed me to reflect about what a book series on European Studies should aim to cover, both in terms of content and in terms of the range of authors. Namely, it made me aware of the need to promote diversity regarding theoretical and methodological approaches, as well as diversity in terms of gender and career stage of the authors. More importantly, it made me reflect about the need for more mentoring of early career scholars, in particular during the process of transforming their PhDs into monographs. Finally, it also allowed me to see the other side of the coin, that of the publishing house and its priorities, which individual authors often do not have access to.
Where specific skills are concerned, it definitely enabled me to further develop my capacity to work collaboratively with the other editors and with the authors. It also helped improve my peer reviewing skills, sometimes pushing me outside of my area of comfort to read proposals that are quite far from my area of expertise. My capacity to plan has also benefitted from this role, as I've had to reflect on medium and long term strategies to expand the book series and its visibility.
KG: I think there were three distinctive skill sets that I have developed as an editor. The first is that I am now much more adept at diagnosing what is not quite right in a paper in terms of its structure, line of argument, and/or logic and conveying this back to colleagues succinctly. This has made me a better reader of academic work, a better supervisor, and a better marker. The second is that editing gave me the opportunities to develop my strategic thinking by drafting up plans, implementing them, and learning from the outcomes. The third is that editing provided opportunities to develop leadership skills. As an editor, you are working with a team, often across institutions and industries. Things need to get done. Decisions need to get made. Jobs need to be delegated. Responsibility needs to be taken. Occasionally, you will need to respond to a challenge. But all of these aspects are essential elements of any leadership position within the sector.
TH: First, that is a distinct job on its own in reality. Editing is one thing, but I also learned budgeting, organising events within short time frames; organising the special issue and best article prize required finessing; and having launched the blog, I really got better at translating academic articles for broader consumption and who can forget, content creation - I became a twitter (social media) content creator. Second, that for all the things we do complain about in academia, we have very generous colleagues. A very senior academic recently said to me they thought I had excellent diplomatic skills - this was surprising since I tend to speak my mind, but maybe this is something I learned. Fourth, I probably enhanced my speed reading and organisational skills overall.
GH: I learnt about the academic journal production process, which included how articles were assessed and selected for internal review before external review and gained an understanding of the pressures that editorial teams face, both in terms of publishing and managing the financial and business elements of the journal. I gained experience working in a different kind of team within academia where, as always, there are multiple pressures on people's time and a strong requirement for collegiality. I was on the board that selected the in-coming managing editor of the journal and this provided me with an insight into the skills and values required for this role. In terms of practical skills, I've got better and quicker at reviewing articles in my capacity as an external reviewer and my own academic journal writing has improved.   
AM: I learned to develop a strong impression of the articles myself. Often an editor is left with contrasting views from multiple referee reports. An important skill was offering the author a navigable path through a round of revisions.
"It afforded an opportunity to really think hard about the structural inequalities that persist in academia and negatively effect some groups while privileging others."

3. What positive impact did editing have on your career?
RB: Editing really helped broaden my networks nationally and internationally. It also helped me to hone my leadership skills in preparation for larger leadership roles later. It afforded an opportunity to really think hard about the structural inequalities that persist in academia and negatively effect some groups while privileging others. The lessons I learned on this front, particularly around how to reach and support marginalised groups better so that they can be fairly represented in our journals and our discipline more broadly, have stayed with me and have really influenced my approach to questions of inequality and inclusion in other leadership roles I have taken on.
HFC: If you'll allow me, I'll adapt this question slightly. It's difficult to write about the impact of a nine-month role, so I'll discuss instead the negative impact of not having had an editing role before. Throughout my career, I've regularly received well-intentioned advice about serving as an editor from mentors, line managers, and colleagues. The advice essentially encouraged me to stay away from editing positions, and to rather focus on publishing articles and books, and submitting grant applications. The reasons varied along the way from 'you need to prioritise publications' to 'they probably prefer more senior academics, and  'editing requires a great deal of time, which is not taken into account in university's workloads'. Looking back, however, I wish I hadn't taken the advice. I've always enjoyed the role of editor, which is one of the reasons I've embarked on editing so many special issues and edited volumes. And I really feel that, by not serving as editor in the past, I've missed on a great deal of opportunities. Journal editors, in particular, gain a fantastic overview of what is being produced in their fields and of the emerging trends in the academic literature. They also benefit from the best training possible in article design, by having access to a very large pool of best (and not so good) practice. Finally, they also expand their professional networks exponentially through their contacts with authors. To conclude this answer, although it's difficult to speak about positive or negative impact on my career, I can definitely say that being an editor at an earlier stage would have made me a better academic.
KG: In a very mercenary sense, and being blessed to work at an institution that recognises academic citizenship, editing journals almost certainly accelerated the pace at which I was promoted from lecturer onwards! But putting instrumentalism to the side, editing has meant I have met and worked alongside amazing colleagues. I've learned more about the profession too, including the work of professional associations, and the important role played by publishers in the circulation of scholarly knowledge. In sum, this has increased my understanding of the challenges facing the higher education sector, the complexities of which do not lend themselves to solution by tweet.
TH: I think it gave me a lot of visibility; it meant I was at the coalface of important debates in my area, and I'm sure contributed in a more general sense to promotions as it demonstrated service and collaboration. I also tapped into networks that would be otherwise closed to me as Black academic. I think a lot of hidden curriculum horror stuff I missed out on because I had access to field leaders and this network. Finally, reading other people's work also meant I knew what a good paper looked like.
GH: I got to expand my networks in the field of genocide studies and conflict prevention and the experience has put me in good stead for taking on another editor position in the future.
AM: I was able to demonstrate that I was part of a successful editorial team for a flagship journal of a professional association. This was a useful way of 'rounding' my CV in regards professional service.
"Seeing articles and journal issues through to publication is always exciting, but supporting scholars in developing their work and charting how their article improves as they go through the review process is particularly rewarding."

4. What was the most rewarding aspect of editing?
RB: Undoubtedly it was working with a fantastic and committed team of co-editors who were a lot of fun to work with, as well as with our managing editor at Cambridge University Press. It has also gifted enduring mentoring relationships and friendships which I will always cherish.
HFC: Coming across fascinating research in books/ articles you would normally not have thought of reading, simply because they are outside of your area of expertise. I just finished reading the final version of a  monograph on the banking sector, which is not an obvious read for someone workings in EU Justice and Home Affairs. It turned out to be so useful that I've now referenced it in an article I'm currently writing. 
KG: Editing puts you in a position to be a small part of the change you want to see. I'm very proud to have worked with editorial teams who have sought to improve the experience of scholarly publishing for early career colleagues, recognised that that under-representation is not just a question of opening doors but also carefully reflecting on the attractiveness of what lurks behind the threshold, and win, lose, or draw, modelled positive and supportive behaviour in the profession.
TH: It was a concrete way to serve my intellectual community and to shape it as well. Getting thank you notes about how what we were doing with the journal was encouraging or feedback from us even after a reject was really something....academia can be nice...sometimes!
GH: Genocide Studies and Prevention is an interdisciplinary journal and very much encourages contributions from all over the world. The editors spend a lot of time supporting early career scholars and scholars based in global south universities that may have less experience writing journal articles that meet the expectations of academic journals published in the global north. As an editor, I was a mentor to scholars that had undertaken important research on the societal impacts of genocide and crimes against humanity, often in their own countries and regions, or were introducing new theoretical and conceptual approaches to researching genocide and conflict prevention but needed more of a steer before the article could go out to external review. Many of our authors were also under significant pressure during the height of the COVID pandemic so it was vital that they felt supported and given enough time to complete their articles if needed without feeling undue pressure from the editors. Seeing articles and journal issues through to publication is always exciting, but supporting scholars in developing their work and charting how their article improves as they go through the review process is particularly rewarding.
AM: Being asked to read pieces outside of my immediate area of expertise really opened my eyes to some fascinating new research and enabled me to learn whilst editing.