Article
How to: International Relations cover letter
In this second of four 'How to' articles, Alexander Borum, an Advisor on Political and Security Affairs for the Delegation of the European Union in Somalia, looks at various aspects of a successful International Relations cover letter.
Alexander also produces a regular list of career opportunities, and the latest one for January is out now. You can also find more of his publications via LinkedIn.
This article was written by
Alexander Borum
This article was published on
Where a CV is the bread and butter of your application, your cover letter is the garnished cold cuts you put on top to satisfy recruiters. While relatively short and very limited in scope, the cover letter can be handy in explaining exactly why your relevant experiences make you a perfect match for the job and illustrate why you carry the passion and dedication to thrive and grow in a given entry-level role.
While not exactly rocket science, writing cover letters remain a process that can continuously be improved, so don't fret if your first results are not perfect; it is very much a process of continuous development and refinement. That being said, it is good to start with a solid foundation, and while this article is not the end-all-solution to writing cover letters, it should give you a good start on the process and help you achieve decent results from the very beginning.
Some might be asking, why do I even need a cover letter when I have a CV explaining my background already? and here comes the big difference between the two; your CV looks at your past achievements, but a cover letter looks to the future; it explains why your background gives you value in moving ahead within a new organisation; it is your own personal sales pitch!
As with all guides, see this more as tips than firm rules; at the end of the day, your application has to reflect you and your way of doing things, so please take what you feel is relevant from this and make it your own.
This 'How to' article is based on survey responses on what topics would be most relevant for students, graduates and young professionals when it comes to entering the field and will be part of a more extended series of LinkedIn Pulse articles seeking to help bridge the many challenges for entering the field, and expands on my earlier series of career primers and supportive guides for the entry-level domain.
Research
The first step to writing a good cover letter is not writing; it is sitting down and meticulously going through the job description and the organisation's website and browsing its social media profiles to build an overall impression of its current engagements.
Your goal is to understand the organisation offering the position so that you can tailor your application to the job and the organisation when you adjust your CV and get to work on your cover letter.
A job description will emphasise particular skills and experiences as formal requirements or desirables. It might also contain certain caveats, such as certification, nationality or visa requirements which might disqualify you from a specific position. Assuming that you are qualified to apply for a job, please look carefully at the essential vital tasks and the skills you asked for; this information helps to frame your profile in the best possible manner to match what you can provide with what is requested.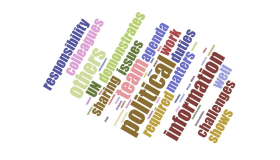 A helpful tool can be a word cloud generator to pull out keywords from the core description to get a quick impression of where the weight is in terms of qualifications. Still, I do recommend spending the time to thoroughly read through the entire listing to create your own image of what is being sought after.
Formalities
Back in the day, a cover letter was expected to divert a quarter of its prime real estate to cover the address, contact info and other formalia of an organisation or a business. Luckily, with digitalisation, we can get away with much less and make the most out of the short space we have to pitch ourselves.
The first and foremost guidance I can give you is to keep your cover letter concise and strongly targeted. If you are not asked to answer concrete questions in the job listing or follow an organisational template or application system, you should only go up to a single page. Much like your CV should cover only some of the details (you have LinkedIn for that), your Cover Letter should not cover everything (you have the interview for this ).
My second piece of advice is to address your cover letter to a relevant person, preferably the hiring manager. This can be exceedingly tough in large multilateral organisations. Still, in smaller organisations, you might have one or more names listed, a contact email where you can deduct the name, or you might be able to google your way to your line manager, but you can also go the extra mile and reach out to the organisation directly, asking who the hiring manager is, and how you may address the letter. Regard a "to whom it may concern" as a last resort; a personal touch is welcome, and if you have to work to get it, it can give a bonus point or two.
     Regard a "to whom it may concern" as a last resort
Lastly, when talking about formalities, I briefly noted the importance of making the most out of the real estate on your single-page cover letter; with this, I would recommend not wasting too much space on listing your full address, contact info and name at the top of your cover letter, as is tradition. Instead, opt for your name and email, and have technical information on your CV, so you are reachable. Your name is good to help you be remembered, so please make sure to sign off on your cover letter. A little tip is to have a nice scan of your signature stored on your computer, and adding that to all cover letters going on is an excellent way to give a bit of personal flair to your final product.
Structure
Typically, when I write cover letters, I divide my writing area into three separate areas; an introductory paragraph, a core set of content paragraphs and a pleasant outro paragraph. Having a basic but intuitive structure helps to serve your message much more clearly and forces you to be critical about what you emphasise in your cover letter. Very often, especially for those with less routine in applying for competitive positions, there is a tendency to stuff both cover letters and CVs with as much information as possible, but this is seldom a good idea. Instead, it is essential to see the cover letter as a complementary document to the CV, having it elaborate meaningful experiences and linking them more concretely to the position you are applying for. It is also a valuable space to show that you are motivated and passionate about entering the field and working in a given job. To best do this, you can move away from the urge to write a wall of text and instead focus on the most relevant things; after all, you have both an interview and your LinkedIn profile to cover even more ground.
Motivate
In your introductory paragraph, it's essential to indicate what position you are pursuing and show a bit of passion for the job you are applying for. It is okay to be creative, as this first initial paragraph should try to attract the reader, showcasing you as a motivated and exciting candidate. The first few lines of your introduction strike the tone, and there is no reason why you can't be a bit cheeky and use this opening to grab the reader's attention and lure them into the narrative you are placing in front of them.
     Use your opening to grab the reader's attention and lure them in!
Practically, you need to explain why you are applying for a position. For international affairs, there can be some quite profound reasons behind these ambitions, so take a moment to think over why this step might be just the one for you, and make sure that you can concisely explain this to recruiters. If not, it's fair to keep it short and to the point, leaving more room to explain why you are a perfect match in the below section.
Match
The core of your cover letter naturally has to explain why you are the right person for the job. The best way to do this is to link your personal experiences and competencies to what is requested and desired in the job listing clearly and concisely.
At its core, you have to accomplish two things in this part of your cover letter:
Explain how you are a good fit for the position
Explain how you add value to the organisation
The best way to go about this is to rely on your research for the position and the host organisation; and to respond as concretely as possible to the key requirements for the position by linking concrete examples of what you have done in the past to what is required for the job. You might have difficulty responding to every demand in a job listing, especially if you are just entering the job market, but don't fess; you can anchor your study-related skills and expertise to your application.
Ideally, you will have been a motivated student who has had engagements beyond just the classroom; quite often, concrete extracurricular efforts alongside studies can be a big help in helping you to shape your profile; its clear-cut proof that you are willing and invested when it comes to advancing the field. Ideally, you will have also undergone one or more internships and perhaps managed a student job on the side; if subject matter-oriented, you might have even gotten published. Not everyone will have the luxury of having these commitments or experiences by the time of graduation, and if you don't, there is no need to lose hope, with the right pitch and dedication, you can go far; even if it is an advantage to have a more diverse background to rely on.
Being concrete and using quantifiable examples is an excellent way to support your sales pitch, but while the private sector can easily dabble in performance-related figures, it is not so easy in international affairs, especially at graduate levels. However, if you have managed projects, portfolios or programmes, you might have had a budget that you can mention, as would be the case for any form of relationship management where you might be able to quantify your responsibilities; feel free to think out of the box with this.
Some positions might demand speciality skills, and in some instances, it makes much sense to spend a bit of time mapping out what typical requirements you can see for positions relevant to you. Project and Risk management are beneficial concepts in the international affairs domain, and it is relatively cost-effective to certify with an accredited institution and gain a comparative advantage. Often, opportunities require you to move to a different country to take up your new position. It is relevant to mention any international experience if this is the case, as it can showcase that you can adapt to cultural settings and thrive. You really want to present yourself as a safe and capable match for the position.
Action Words
Describing your experiences can be challenging, and using confident and action-oriented language is essential when telling what you can do. While buzzwords can be highly annoying to recruiters, a tactile use of action words can make a difference, so please try to use examples, such as those below, to emphasise your capabilities.
      Berkley University has compiled the amazing action verb list above.
Captivate
Your final paragraph can be kept short and sweet; at the end of the day, you only need to get three points across when you write it.
A reiteration of your sincere interest in the position.
An appreciation of their consideration for the position.
Your anticipation of hearing back from them regarding the position.
If opting for the shorter route, the paragraph should be no more than 3-4 lines of text and should ideally be followed by your nice scanned signature, adding a bit of personal flair to the application. But if you have room to manoeuvre, it is a good idea to end on a strong note by emphasising your strong drive and being a perfect match for the position. It's great to be confident about your match for the job, but don't overdo it and respect the cultural context; for Americans, self-gratification can be an art form, but try the same in Denmark, where the Law of Jante      prevails, and you will be in trouble.
A last tip for the final paragraph; if you have essential information that you need to relay to the recruiter that does not fit anywhere else, this is your last and best opportunity to include it; will the job require relocation? Mention your willingness here! Is there an ambitious starting date? Note your availability! be proactive; it can help you advance to a later selection stage and give recruiters a better chance at exploring your profile and capabilities.
Finally, end with a call to action; tell them that you look forward to hearing from them or elaborating in an interview; it's a great way to show confidence and enthusiasm as long as you don't overdo it.
Editing
Proofreading
Everybody makes mistakes, but in international affairs, the bar tends to be higher than usual, and almost all duties require significant reporting. Make sure you do not lose bonus points on your written presentation by mistyping or misspelling words and always double-check your work at the end.
You might sometimes apply for dream jobs or upper-tier opportunities, and here I would have no qualms in reaching out to a peer for a fresh set of critical eyes. The better the options, the higher the bar, so even small mistakes can add up and become quite costly.
Polish
When you give your cover letter the last read-through, please ensure the formatting is consistent and neat. You will want a uniform font, font size, line spacing, and scheme across the entire document so uneven text or small obstructions do not stick in anyone's eyes. It takes a few extra minutes, but it is time well spent.
Critique
Finally, I'd like you to remain critical of your written product, re-read it and ask yourself if your cover letter builds the narrative you want as a candidate for a position in a domain as competitive as international affairs? Does it send a clear message of why you want the job and how you fit the role? Is it intuitive, and does it send the message you want at a glance? Did you balance showing a bit of personality while remaining professional? If yes, you are cleared to send it off; if not, is there anything you can reasonably do to sharpen your cover letter? If not, don't worry, perfection is the enemy of good enough, and as long as you make a concentrated effort, you can rest assured that it's all okay!
     Perfection is the enemy of good enough.
Top image provided by Nick Morrison on Unsplash