Article
How to: LinkedIn and International Relations
In his final edition of four 'How to' articles, Alexander Borum, an Advisor on Political and Security Affairs for the Delegation of the European Union in Somalia, looks at various aspects of a successful International Relations LinkedIn profile. 
Alexander also produces a regular list of career opportunities, and the latest one for January is out now. You can also find more of his publications via LinkedIn.
This article was written by
Alexander Borum
This article was published on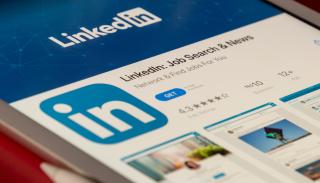 Developing your brand can be a worthwhile investment, especially in a field as competitive as international affairs, where standing apart from the crowd can be the difference between making or breaking it. Studies have shown that recruiters consult LinkedIn profiles of candidates in over 90% of the cases, so whether you want it or not, your profile will be sought out, and it is in your best interest to have it prepared for this!
LinkedIn is valuable for managing your professional brand and building your profile. It also serves a beneficial role as your repository of all professional data, so where your CV and Cover Letter have to be concise, your LinkedIn profile should cram in every valuable tidbit of information about your professional journey as possible. However, the most valuable function of LinkedIn is your ability to leverage your network to your advantage. Suppose you can cultivate a supportive network with a bit of effort; in that case, you will increase your reach a thousand-fold, which might play a vital role in setting you apart from competitors. Especially when recruiters browse your profile and gain further insights into who you are, how interconnected you have become and what you can offer an organisation.
Like most social media platforms, LinkedIn requires a certain level of time investment. It is, quite frankly, one of the platforms where very simple engagements, costing only a few minutes per day, can turn into worthwhile investments. Several pitfalls on LinkedIn will actively hinder your progress, and several patterns of behaviour can catapult you forward. This article sets out the foundation for a solid LinkedIn presence that will add value for anyone pursuing a career in international affairs.
This 'How to' article is based on survey responses on what topics would be most relevant for students, graduates and young professionals when it comes to entering the field and will be part of a more extended series of LinkedIn Pulse articles seeking to help bridge the many challenges for entering the field, and expands on my earlier series of career primers and supportive guides for the entry-level domain.
Profile
Your profile serves two essential functions, it gives a detailed account of your professional journey, and it serves as a platform for professional engagement. It takes a bit of time to compile all the critical information needed when starting with a LinkedIn profile, but it is worth investing time and effort.
As with a cover letter and a CV, you need to pay particular care and attention to details when filling out your profile; my recommendation is to push aside any reservations about what is and isn't relevant for your specialised career in international affairs. Everybody started somewhere and has done unrelated things; having some diversity in your background can help you stand out and you can turn any experience into a valuable and relevant lesson, as long as you do it with a dash of creativity.
Pictures
The vast majority of users will have a solid understanding of how important it is to appear professional in their profile pictures and banners, but sadly this is not an understanding universally understood by everyone.
For your profile picture, you will want to have a professional portrait or, in specific cases, a business-action-oriented photo. Portraits are easy to come by, and many universities do career days where professional photographers are made freely available for students to take professional headshots. You can use these offers or find a photographer on your own, with the specific intent of having 3-4 professional photos available. As someone who hates having his picture taken, I still had to reach out to a photographer and make an effort to have decent photos taken; for many, I assume the experience will be much more natural and pleasing. Either way, you have to do it, and you will be happy to have it as you move ahead; trust me.
The alternative to a portrait is an action-oriented photo, emphasising some unique professional quality about you; these are a lot harder to come by and require a lot more of the photo, as you need to clearly stand out in the frame and somehow make sure that a strong narrative is being painted through the photo context. In most cases, I recommend that you go with something classical, but just be aware that this is an option if you want to stand out visually.
Since joining the platform, I have seen too many profiles with inappropriate photos for what is, at its core, a professional platform. From drunken party pics to shirtless mirror selfies, I have seen it all, and I can guarantee that the wrong photo will do more harm than no photo over the last few years; I have to say that the tippy-going away from business casual dress codes towards something increasingly looking like a beach vacation in Cancun has become more and more apparent on the platform. Please think carefully about what image you wish to cultivate when you select your profile picture and that you familiarise yourself with the differences that LinkedIn has from other platforms such as Instagram or Facebook.
Finally, your profile banner is your chance to add a bit of flavour to your profile, and as long as it is somewhat business-oriented, you have free reign to use nature, art and graphical design to make you stand out; you might even combine these with a personal pitch or tidbits of information if you want to have your banner advertise for you.
Headline
Your headline is a short one-liner that can help describe you on the platform, and it is one of the most marketable aspects of your profile as it will appear just about everywhere. There are different schools of thought when developing efficient headlines on LinkedIn, and it is up to you to pick what makes the most sense in your case.
Generally, I do believe that a safe and effective option is to have your work title and organisation association in your headline; in the vast majority of cases, this is simply the most viable solution; people whom you encounter will want to know what you do and for whom, and this is an easy way to provide information in an unrestricted manner.
However, one size seldom fits all, and you, as a fresh graduate or an IR influencer, will want to stand out with something that distinguishes you in a set manner. If you do not have a job, using the headline to describe your interests might make a lot more sense, so you indicate where you want to go in your career. Please don't feel restricted when it comes to this space; keep in mind that, beyond your name, this is the piece of information that will follow you the most on the platform.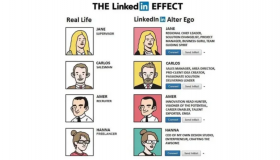 Market yourself, but take care not to overdo it!
Summary
While your profile has photos, it is your summary that should be painting a picture of you as a person. This means that there is a bit to consider when writing your profile summary (about section), as you can go quite far with just a few solid tips for the ≤2000 characters of real estate you have to work with.
Your summary plays a vital role in uniquely set you apart from the rest of the world; it also allows you to drop some of the keywords you wish to be associated with and will help you get found when someone is searching for you on the platform.
Decide your approach: in your summary, you can focus on your current job and your passion for international affairs, explain how your past enables your future in IR, lay out your personal mission to impact the international scene or what sort of unique qualities you bring to the table
Be concise: while you might be able to squeeze in about 300 words, most bios are in the 100-150 range, so aiming for the middle ground is a safe bet.
Focus on you: while many professional or academic challenges are faced in team settings, you are in the business of promoting yourself and not the gang on LinkedIn, so focus your narrative about your role and your impacts; save the peer support for other LinkedIn contexts.
Think of your audience: as a fresh graduate or a young professional working your way into your dream career, you will want to capture the interests of recruiters and HR representatives. However, if you are on a solid track and building your profile as a subject matter expert or a capable actor, you might wish to be more technically oriented a focus on peer networking.
Include your niche keywords: when you develop your interests into a professional career, you will most likely find yourself on a niche track within the international affairs domain. Make sure you do your research in advance and include the crucial keywords associated with your particular niche, so any relevant searches on the platform will bring you to the attention of recruiters.
Be yourself: make sure that you also shine through as a person; showing your passions and your dedication to the field is something that many recruiters value, and it is especially true when interview panels or prospective colleagues look you up.
Information
LinkedIn rewards you if you go all in on providing relevant information, so make sure you take the basics as you rush towards explaining why you are the perfect candidate to consider for jobs in the field.
Location sadly plays a factor in international affairs, notably in the NGO and consultancy subdomains where visa sponsorships might be a consideration.
Selecting your Industry makes it easier for the LinkedIn algorithm to link you to the right opportunities, and naturally, you will want to cement your interest in International Affairs here.
Be reachable, and make sure that your contact details are listed on the platform; you do not have to list your phone number and email if you do not want to, but it is generally good to have it listed, just in case. I have had a few good experiences being contacted directly, but I have also had this misused.
Finally, assuming that you are looking to get your career started in international affairs, I do recommend that you flag your profile as 'Finding a New Job' under your Open To selector; it makes it very clear that you are looking for a new challenge and removes the guesswork from anyone having an exciting encounter with you.
Content
LinkedIn is similar to your logical approach to CV writing, so I think you should read my previous article to familiarise yourself with the basics. The main difference between a CV and a LinkedIn is that you don't have any constraints on space and relevance; I think you should get it all out there. From student jobs as a barista to specialist positions in the domain, all possible experiences have helped you shape your profile over time. This overview of my past commitments is useful for remembering better gaps, challenges and unique experiences as I move ahead.
Education and certifications are also worth mentioning on LinkedIn, as it is an excellent way to leave a breadcrumb trail explaining your motivation and commitment to the field. If you have a career gap between graduation and your first position, you can fill the void by taking on a few select courses and certifications in-between; this is a clear indicator that you have a genuine motivation for the field and that you are keenly interested in your personal development.
Lastly, I can only recommend that you list everything that can set you apart; publications, memberships, languages and, importantly, skills. The first three are great ways to show your motivation and suitability for work in the domain, and abilities can uniquely indicate that you have a specific capacity endorsed by your peers. Sadly, LinkedIn has long since made changes to the way that Skills and Endorsements appeared on the platform; as in the past, you would be easily able to endorse your network through a small platform plug-in; these days, it's a manual effort, and can barely remember the last time someone endorsed me for a skill - the idea is excellent but with the hassle of endorsing, it has falling into obscurity.
Profile Strength
LinkedIn is very helpful in guiding you towards a strong and sustainable profile. With a bit of clever gamification, you can take an excellent guided tour towards the ideal level of profile detail.
LinkedIn measures profile strength at five different levels.
Just beginning
Intermediate
Advanced
Expert
All-Star
As you progress in levels, the LinkedIn algorithm will increasingly give you preferential treatment regarding your ranking in complex boolean searches on the platform. This reward makes it worthwhile to level up your profile with the suggested sections and content and spend extra time before going beyond the basics.
Network
With your profile comprehensively filled out, it is essential that you make a concentrated effort to build your network and continuously expand it in a sensible manner.
LinkedIn has a display cap of +500 connections, which is what you should aim for when you build the foundation for your LinkedIn presence. To do this, you'll need to look up and add people to your network.
You can link your email clients to the platform and see which contacts you have already present on LinkedIn. When you import contacts, you will receive access to an overview of active members on the platform and have the option to invite contacts to use it. While I advise against spamming your network with invitations to join LinkedIn, I would not hesitate to add anyone to your email contacts who might be even remotely relevant.
Since email contacts might be limited, you can also make a concerted push to reach the 500 connections by manually trawling through your past. Adding all your old classmates, colleagues, and friends is a great way to get started; quite likely, these connections will have very diverse backgrounds, which might not be directly helpful to you, but they will have broad networks that might be more relevant; and give your relationship, they might be more inclined to support you on the platform. When I got serious about LinkedIn, I put on my favourite tv-show and split my screen between my Facebook Friends and the LinkedIn search engine for a long session of copy-pasting names to find people to add; it's a chore, but it worked wonders get a strong foundation sorted.
Enablers
Naturally, it is critical to network and builds your exposure to key movers and thinkers in the field, which come in different shapes and sizes. A great way to start is to make sure that you add all your professors as connections on LinkedIn; they will likely have impressive networks of their own, and while probably not the most response on the platform, a strategic like or comment can get you far and wide. In the same way, you can safely add anyone in the professional sphere you have been introduced to or worked with, even if it has only been a few encounters. LinkedIn does not distinguish between the core or periphery of working partners, so don't worry about what people think when you add them out of the blue.
Stepping beyond the connections you may know, there is also the option of connecting with established people in the field, and while I find this to be quite okay to do, there are different ways to go about it. First and foremost, big names in the biz are often swamped with requests, and not all of them are exceptionally polite, so make sure you start on the right foot by adding a note to your invitation to connect. A short message explaining that you might not have encountered them in person, but you still find their career and insights fascinating and see great value in being connected to them is a short and sweet opening that hardly anyone can say no to, stroking a bit of ego will quite honestly get you far. Some might respond, and you might have an opening to ask for their insights on specific matters or how you could leverage your profile into a position in international affairs; it is okay to be a bit cheeky when you reach out, and the worst that can happen is a no!
     It is okay to be a bit cheeky when you reach out.
You can also follow people and specific hashtags such as #InternationalAffairs #InternationalRelations #InternationalDevelopment #InternationalSecurity and #Diplomacy - these tags will help you to seed your feed on LinkedIn with relevant content. The more concrete you can be regarding your interests, the better, so try to create 10-15 relevant hashtags to align your feed content.
Groups on LinkedIn are not the most vital aspect of the platform, which is truly a shame, as gathering peers with similar interests is great. However, the execution could have been more organised and structured. Still, groups are worth the effort. I think you should engage in them if you are interested in expanding your horizon and sharing any publications or relevant endeavours you might be undertaking.
LIONs
You might encounter open networkers in the wild when you travel through LinkedIn, and for many, especially those with influencer aspirations, the concept of open networking becomes attractive and enticing. LIONs or LinkedIn Open Networkers adopt the concept of connecting with just about anybody on the platform. The goal of LIONs is to have vast networks that, through sheer size, will get you to the opportunities you need.
I am not a fan of this approach and highly recommend that you engage more slowly and sustainably in growing your network. Investing time and effort into developing your network means that you can reap certain benefits down the line; namely, having a LinkedIn feed that works for you with relevant content for your chosen domain; but to enable this, you have to be selective about whom you connect with.
Behaviour
In many cases, simply having a filled-out and up-to-date profile on LinkedIn will do the trick; it will be a passive investment and valuable repository no matter what. However, if you want to take it a step further, you should know a few things before jumping into it.
If you want to step on your LinkedIn game, you will have to post meaningful content to the platform, going beyond your achievements of graduating, landing your first job, completing MOOCs and getting certified. Content such as insightful articles with your commentary, discussions, LinkedIn articles or whatever might be relevant and suitable in your case will be immensely helpful in building your professional brand and advancing what the platform can do for you; it will also be a way of expanding your network as content-generation might lead to networking interest from your peers. For some taking it a step further and pushing to become a LinkedIn Creator makes sense but should be carefully considered.
This a fair warning for anyone wishing to step into a more active LinkedIn arena; it is a process that can be a bit frustrating, namely because the LinkedIn algorithm is particularly punishing compared to other platforms.
Engagement
Engagement on LinkedIn is the most vital metric to consider and is the defining factor for your reach on the platform. The LinkedIn algorithm is tough to deal with for just about anybody, and sometimes you will have posts that fail. It has happened countless times for me, and the feeling of wasting multiple hours on a post only to see the algorithm not pick it up can be demoralising, to say the least. There are good reasons for things to work the way they do, and the key to understanding this is understanding the algorithm and the importance of engagements.
The feeling of wasting multiple hours on a post, only to see the algorithm not pick it up, can be demoralising, to say the least...
A while back, it became clear that the LinkedIn feed had developed into an echo chamber for the significant influencers on the platform, meaning that no matter how marginal the content, it would go viral. This has since been fixed, and two significant changes were made to make our feeds more relevant and worthwhile. First, the algorithm now favours content produced by people we know and secondly, the more time and effort readers spend on content, the more important it must be, and the wider it will be sent in the system.
This makes it crucial that:
Your network engages with your posts.
That you actively engage with posts in your network.
There are many ways of going about engagements, but the essential methods are: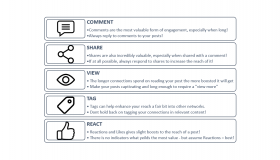 Overview of engagement forms on LinkedIn
In an ideal world, you will want to see several longer comments to your post, each generating a discussion related to the topic. Discussions indicate interest and value in your post on the platform and are crucial if you want a significant reach. If you want to be good for your network, you will need to engage in a meaningful manner. Still, not all engagement is created equal, and not everything counts, so I have given an indicator of what you can reasonably expect when it comes to post impressions.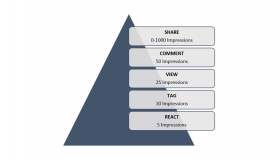 Ranked overview of impression impacts by engagement type.
As the figure indicates, there can be much potential in having an article shared by others and by commenting on a post. Please take the form with a grain of salt, however, since the impression estimates are only rough estimates and many more factors play in. An example is the value of comments or tags; if either feeds a discussion, it massively increases their value. However, the ordering is important; only the first action counts in engagements, so if you see a post, and want to comment, please make sure you comment before you like, as only your first action counts. For some posts, it will be very natural to have a call for action, but for others, it makes less sense; either way, engagement is an excellent way for you to be a valuable asset on LinkedIn, especially as a newcomer!
If you see a post and want to comment, make sure you comment before you like, as only your first action counts.
Creator-mode
As influencer culture has become widespread, many naturally want to enable creator mode on their profile. This is an incredibly useful tool to build reach organically through sustained efforts on the platform for people who produce valuable and relevant content on LinkedIn and have thousands of connections. The key to this is that users will get recommended to follow certain profiles based on their interests, meaning that the platform actively helps you grow, but followers differ from connections. For established players on the platform, the sheer amount of content on the feed can be impossible to keep up with, and before creator mode, you would essentially trade a ruined feed for reach; now, this is no longer the case. A follower differs from a connection, as the name might allude, by only being a follower of the content, not a sharer. In my case, with several thousand connections and followers and a heavy reliance on finding relevant entry-level opportunities in my feed, it is crucial that my feed is not drowned out in other content that is relevant to what I do on LinkedIn and in my professional life; e.g. followers become incredibly useful to ensure that I can continue to support the community.
However, if you are not a content creator and are actively building your network towards a long-term investment with critical benefits for you as your career progresses, then enabling creator mode might be devastating. The key issue is that your default connection mode will change from connection, which is absolutely ideal for anyone building their network, to follow mode, which is perfect for content creators. Sadly I see many young graduates and young professionals with Creator Mode on but with no base network and no content creation, and this is detrimental to getting things kicked off in the right way. You are not losing out on anything by not enabling Creator Mode, but you might significantly stunt your organic growth if you enable it without the right preconditions and intents.
Line-spacing
In your effort to understand the platform, you might come across several LinkedIn Gurus who will give you tips on advancing your engagement levels; one thing they love to advertise is line-spaced posts.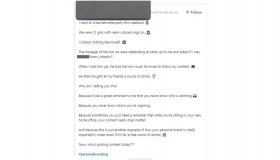 Line-spacing and bad content; proof that two wrongs don't make a right!
Line-Spacing is a way of luring users into clicking the see more button on posts, generating views for the platform. However, where it once made a bit of sense to take this approach, playing on how you can deliver a compelling narrative, there is no longer much point in it, namely as this method has very little content and thus generates very little view-time; a crucial metric for further engagement. So, please. Please don't do this.
Inappropriate
LinkedIn is a professional platform, and while 90% of the user base understands this, there sadly are many cases of people needing help understanding it. This yields undesired effects for everyone else and can cause discomfort.
You will likely encounter several completely irrelevant posts over time, and it is essential to develop your tolerance levels for people who like, spread or post these things. Typically, since I need to have a curated feed to be effective, I have a very low tolerance level, so a single infraction will often lead to a unfollow (keeping the connection but muting all future content); quite often, this is inspirational, private or meme posts but commonly for all, it is not content that I want to see on the platform; instead, it is things I prefer to see on the State of LinkedIn so I can laugh about it.
You might also encounter another kind of inappropriate behaviour, as some users need help to differentiate between LinkedIn and Tinder. It should be common knowledge that you should not try to hit on anybody via a professional site. Still, for some, this idea needs to be clarified, and as such, both sexes are in the risk zone of receiving inappropriate messages of this character. You should not do this on the platform. Quite frankly, you should also not tolerate this kind of behaviour by others, so immediately report the encounter when it happens and do us all a favour so we can get rid of these people on LinkedIn.
Advancement
Once you are well settled in the platform, you can decide to push the envelope even further, and there are a few areas where further engagement can be helpful—notably understanding your performance better, going beyond the confines of a free user and becoming a content creator on the platform.
Social-Selling-Index
The LinkedIn Social Selling Index is a sales-oriented tool. Still, it gives you valuable insight into how you perform and can increase performance on the platform through sustained efforts. As you develop your professional profile in international affairs and begin to establish your reputation, it might be helpful to support this on LinkedIn, too; and the Index is a big help here: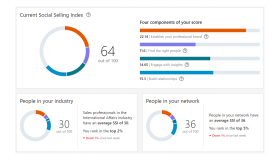 Example of what data you can derive from the index.
As you can see, the SSI score goes from 0 to 100, and usually, anything valued above 60 is regarded as quite good, especially in the international affairs domain. In my example above, you can see that I score pretty high in my personal brand; sensible as I have an all-star profile with a lot of extra details, and since I write articles, I run a newsletter and post regularly. I don't score particularly high on finding the right people, likely because I only sometimes look people up on the search engine or conduct boolean searches as many recruiters will do so that I can accept the low score. Engaging with insights and building relationships is decent. Still, it could be improved upon, meaning that I should be even better at engaging with others' posts, the network even more, and stop taking discussions off LinkedIn chat as these all help to develop the metrics; however, considering that the metrics are nice to know and not rules to live by, I am pretty happy with the metrics when looking at my overall behaviour. If you are building your network, it is a valuable tool to sharpen your interaction, and it can be an excellent way to see what you are doing well and where you could improve.
Premium
I am a premium user and find it worth the cost to maintain. Still, I am not an advocate for unnecessarily spending money as a graduate or young professional unless it is a significant benefit.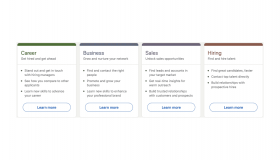 The four premium subscriptions; Career is the one you want.
Premium Career, the subscription for those looking for work, gives some key benefits, notably access to LinkedIn Learning, a platform for online training and certifications. In-Mail is your currency for sending cold emails to people way outside your network; an excellent tool for outreach. Profile Views, details on who has visited your profile, which is quite nifty and Insights, where you gain additional detailed information about it for positions listed on LinkedIn. As one might expect, the value of Insights depends on what you want to do; if you wish to work in consultancies, it's quite valuable, but if you are looking at the big multilateral organisations, it will be of little use. Overall, it is an attractive and functional package, but by no means is it a must; so if you have other priorities, then see to them first; LinkedIn is luckily operated in a pretty fair manner, where the critical value of the platform is free of charge, and only the luxuries are on the paid plans.
Creator-Mode
While I already discussed creator mode for LinkedIn, it was mainly a warning to newcomers and those still establishing themselves in the field. Using your voice and dedication on a platform like this might have some attractive prospects, and Creator Mode is quite helpful once you are settled in.
I joined Creator Mode quite early as it fitted my behaviour on the platform. It has made it easier for me to continue supporting those trying to enter the international affairs domain. While it is always rewarding to help people, there are also incredible frustrations with using a platform that, at times, is a bit arbitrary in which posts are pushed far and wide and which are dead on arrival. This can give some fair headaches, so a fair warning to those with aspirations to significantly increase your presence on the platform; can be a thankless and unforgiving experience.
Still, international affairs is a domain with many grounds for standing out as a subject matter expert or sharing insights, so the space is open for those willing to take it. Despite the structural challenges, it might be suitable for some once you are settled in comfortably and wish to leverage your network into something else. The most crucial aspect is naturally to have fun with what you do and to find the process rewarding, so if this is your cup of tea, you should consider it.
Top image provided by Souvik Banerjee on Unsplash