Article
IPEG 2021 Book Prize winner announced
This article was published on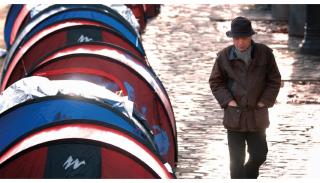 The IPEG Book Prize Committee is delighted to announce that the 2021 winner is Urban Displacements by Susanne Soederberg (published by Routledge).
As ever, both the longlisted and shortlisted books paid testament to the intellectual range that characterises modern IPE. Indeed, the six books that we reviewed demonstrate the very best of the field, shining a light on an enormous variety of geographical spaces, historical eras and theoretical foci. Moreover, the sweep of topics that today typify the cutting edge of IPE, and which was represented in these books, is genuinely astonishing. We would like to commend all of the authors who comprised what was a highly competitive shortlist and from which it was not easy to select a winner.
Soederberg's book is remarkable in its scope and impact. It uses the proliferation of commodified rental housing across the globe as a lens through which to understand how surplus and scarcity are produced and governed across urban spaces. She has undertaken enormously rich empirical fieldwork in three European cities – Dublin, Berlin and Vienna – each of which offer distinctive insights about how these ostensibly global processes play out on the ground and are mediated by distinctive state-society dynamics to simultaneously produce severe immiseration and grotesque wealth. However, the book is about much more than housing: it offers a window into the evolution of contemporary financialised neoliberalism and the deep-seated classed and raced dynamics underpinning it; and, via a highly original melding of the urban geography and global political economy literatures, it demonstrates how these processes engender a constant rescaling and reproduction of deeply exclusionary financialised orders. The upshot is that the expansion of modern capitalism appears highly dependent upon the production of expendable populations even as those disposable workers become ever-more dependent on a particularly dark, exploitative form of capitalism. In short, Soederberg demonstrates with panache and conviction that the consequence of these shifts is the effective normalisation of an everyday life marked by enduring insecurity.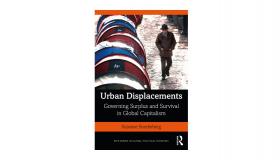 In all, Urban Displacements is highly original, deeply informative, and provides an account of today's predatory capitalism that is lucid, insightful and compelling. Susanne Soederberg is a worthy recipient of this year's IPEG Book Prize and deserves special mention for being the first person to win it twice, having also done so in 2015 for her book Debtfare States and the Poverty Industry (see full list of previous winners here).
The committee has been truly honoured to serve the IPEG community these past two years, and thoroughly enjoyed the opportunity to read a suite of fascinating books. We very much look forward to handing on the baton to a new committee constituted by the incoming Convenorship in 2022.
BISA-IPEG 2021 Book Prize Committee Members
Matt Bishop (Chair)
Craig Berry
Akosua Darkwah
Adrienne Roberts
Lisa Tilley
Ernesto Vivares