News
BISA-IPEG 2020 Book Prize Announcement
This article was published on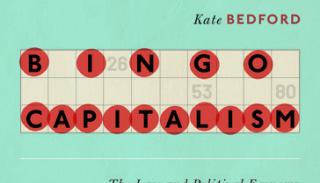 The IPEG Book Prize Committee are delighted to announce that the 2020 winner is Bingo Capitalism by Kate Bedford (University of Birmingham), published by Oxford University Press.
The field this year was extremely strong, and the committee were struck by the depth, breadth and sheer variety of fascinating work that is going on in IPE, and would like to commend all of the authors who made what was a highly competitive shortlist.
We felt that Bedford's book was a deserved winner. It is the culmination of a decade of serious empirical research in the bingo halls and faded seaside towns of Britain that are rarely written about by academics, and even more rarely with such affection, honesty, and lack of objectification. The study takes something seemingly innocuous and prosaic in everyday working-class British life and uses it as a way to ask much bigger questions about a corporate-financial space that is largely ignored, the regulation of gambling, and what this tells us about the raced, classed and gendered construction of subjects by the state as well as the wider evolution of capitalism under late neoliberalism. It really brings to life the power structures underpinning the bingo hall: from regulatory neglect in the early twentieth century to rapid technological change underpinning new patterns of accumulation today, alongside the people who inhabit and navigate those forces, often with a spirit of mutual aid that is barely captured in our existing understandings of either gambling or the economy more broadly.
In that sense, it genuinely breaks new ground, offering a framework that connects analysis of the everyday with systems of regulation which could be applied in many other situations. The enormous volume of work embodied in the book - over 100 interviews, many more informal chats, endless ethnographic participant observation, and the thorough probing of legal records - is astounding, and it all comes together to say something much bigger about the relationship between socio-legal studies and IPE. Not only is it strikingly original in almost every respect, it is also a real page-turner and breath of fresh air. In sum, Bingo Capitalism is an instant classic, and entirely worthy of this year's prize.
BISA-IPEG 2020 Book Prize Committee Members
Matt Bishop
Akosua Darkwah
Andrew Gamble
Adrienne Roberts
Lisa Tilley
Ernesto Vivares