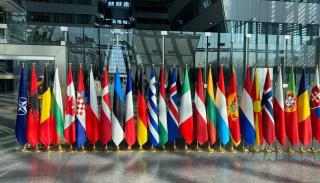 NATO's Strategic Concept – the voices of the future
This article was published on
Over the past six weeks we collaborated with the Foreign, Commonwealth and Development Office (FCDO) to see students from 10 universities involved in NATO's 2021 Strategic Concept. On Monday 13 December, six of the students had the opportunity to present their final report at the NATO meeting. Here we look at what they've achieved and how the experience will influence them going forward.
The purpose of the Strategic Concept is to adapt the definition of the Alliance's core tasks to 21st century realities. This includes an updated threat analysis, as well as a widening of priorities to include matters and domains such as cybersecurity and societal resilience. NATO were keen to hear the voice of the younger generation, so opened the floor to university students through work with the FCDO.
Students from across the UK and from Universidade Catolica Portuguesa in Portugal, worked in teams to research provocations on defence and deterrence priorities for the next decade. This culminated in a virtual meeting led by BISA President, Professor Mark Webber, to agree a final report for presentation to NATO.
On Monday 13 December students from six of the universities had the chance to present their findings to NATO directly, albeit virtually due to the latest Covid restrictions. The students found the experience greatly rewarding and it gave them the chance to put the theory they have learnt, and their research skills, into practice for a real-life piece of work.
The universities involved were: University of Birmingham; Coventry University; University of Kent; King's College London; University of Plymouth; Queen's University Belfast: Staffordshire University; University of Stirling; University of Westminister; and Universidade Católica Portuguesa, Lisbon.
Tomos Lucas, a Master's student from the University of Birmingham said "To get to present to one of the highest levels of office and council in the world was a fantastic experience that I'll never forget". He went on to say:
"[This experience] helped me to go on to apply for the international Model NATO in Washington DC in February. For anyone that's looking to get into International Affairs, Politics, International Relations or wider government, doing something with BISA and the Foreign Office will be an amazing experience".
You can watch a short video from Tomos to find out more about his experience below. You can also see a short video from Naota Lee, a final year student from Coventry University, who explains more about the process the students undertook in their teams. Naota said:
"This was an opportunity to gain new perspectives by engaging with students from other universities."
BISA is dedicated to providing hands on experiences for Politics and IR students. Our next student experience event, a climate negotiation simulation, will take place in March 2022.
If you want to know more about NATO's Strategic Concept you can download the document on their website.