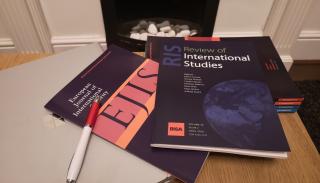 New Impact Factor scores and rankings for RIS and EJIS
This article was published on
Today we received new impact factor scores and rankings for both our journals – Review of International Studies (RIS) and European Journal of International Security (EJIS). We are delighted to see RIS increase its score from 2.906 to 3. Its rank also improved from 22/96 to 20/96. This was EJIS's first journal impact factor, and it came in at 2.2, as score that gives it a provisional ranking of 34th in IR.  The journal impact factor, or JIF, is the standard two-year measurement, and the most commonly used impact metric. These results demonstrate the important intellectual influence that RIS and EJIS hold in the field of international relations as outlets for innovative research published by scholars from around the world.
Juliet Dryden, Director of BISA, said:
"This is a great way for the current editorial teams to finish their editorships before handing over to the incoming teams in December this year. BISA is immensely grateful for all the work both journal teams have done to achieve these rankings. It shows that the work we have done to raise the visibility of our articles post-publication is having a measurable impact."

Review of International Studies (RIS) publishes cutting edge International Relations research regardless of theoretical, methodological or empirical focus. Our aim is to publish articles that initiate or lead contemporary debates in international relations research. RIS awards an annual 'Best Article' prize, and for the past two years has mentored the winners of the Colonial, Postcolonial and Decolonial (CPD) Working Group's second annual Early-Career Researcher Paper Prize. They also regularly take part in 'Meet the Editors' events at the leading IR conferences.
The European Journal of International Security (EJIS), our newest journal, launched in 2016. It publishes theoretical, methodological and empirical papers at the cutting-edge of research into international and global security challenges. Welcoming high-quality research from around the world, EJIS covers all areas of international security, including: conflict and peacebuilding; strategy and warfare; environmental, health and food security; energy, ecological and climate security; human, gender and everyday security; technology and security; and security governance. For those based or trained in global regions underrepresented in the fields of International Relations and security, the journal offers pre-submission feedback. Contact F.Petrizzo@leeds.ac.uk to learn more.