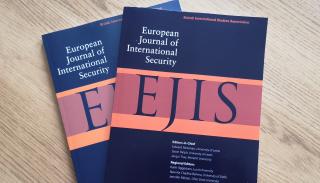 New issue and associate editor for the European Journal of International Security
This article was published on
The European Journal of International Security (EJIS) is pleased to announce that our editorial team has been joined by a new Associate Editor, Professor Olaf Corry of the University of Leeds.
Professor Corry's research focuses on how international politics affect, and are affected by, the global environment, with a current focus on the security implications of climate engineering.
We're also pleased to announce that our new issue (6:4) will be free access until the end of November. This is thanks to Cambridge University Press' free access on publication policy.
The issue includes current contributions to topical issues, such as Joseph M. Brown and Tanisha M. Fazal's work on the claiming of the cyber attacks, Eleanor Gordon and Henrik Kjellmo Larsen's investigation into the perspective of humanitarian actors in Moria refugee camp, Lesvos, and Maya Dafinova's reflection on German and Swedish intervention in Afghanistan. 
In case you missed the announcement last week, EJIS is looking for paper proposals for the BISA 2022 conference from early career/postgraduate research colleagues who are preparing to submit their work to a journal. Members of the EJIS editorial team will convene the panel(s), act as panel chair and discussant during the conference, and offer 'mentor' support to paper authors outside of the panel, providing feedback on how editors may read the paper before and after they send it to reviewers. Read the call to find out more.