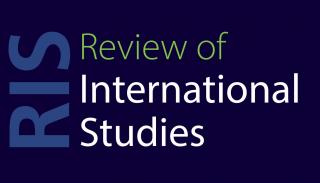 Review of International Studies at 50 - deadline extended to 15 October
This article was published on
To celebrate its 50th Anniversary in 2024, our journal Review of International Studies (RIS) will be publishing a special issue - Global politics: the next fifty years. 
We invite expressions of interest for articles to be included in this special issue by 15 October. If you are interested you can find the full call for expressions of interest (including the format and lengthy of expressions) here:
The aim of this special issue is to think through the key challenges facing international studies – as a discipline and set of empirical problems – in the next 50 years. We particularly want to think about the agendas and problems that will emerge in the near, mid and long term future of global politics, broadly construed.
Contributions to this special issue will consider three questions:
What challenges, theories, and conflicts will shape the next fifty years of global politics?
What should the future of global politics be (as a discipline and a set of empirical events)?
What currently neglected/marginalised conversations, views, or perspectives on global politics deserve greater attention in the future?
We invite expressions of interest for articles to be in included in this special issue.
Potential authors should send the following in a word document to reviewofinternationalstudies@gmail.com with the subject line 'RIS@50 Expression of Interest' by 15 October 2022
Author information (name, institution, email address)
Title
200-word abstract
200-word rationale for significance of proposed article
Authors must strictly follow this guidance. Do not exceed the word limits, do not include any information that is not asked for above. Expressions of interest that do not follow this guidance will not be considered.
We will make decision about whether to commission articles by 1 November 2022.
Decisions will consider the originality of the contribution. Emphasis will be placed on selecting a diverse group of authors including those voices traditionally under-represented in international studies journals.
Potential authors should consider the following:
Articles will be 8000-12000 words long (this includes all text and notes, but excludes the abstract, acknowledgments and author biography).
Articles will advance an original argument (we will not be considering survey articles).
Articles will address a theory or event that the author thinks will be central to the next 50 years of global politics.
Drafts must be submitted by 15 May 2023.
All commissioned articles will be peer reviewed.
It is normal that articles reviewed by RIS receive an R&R decision in the first instance. Authors must be prepared to engage positively with such a decision in a three-month timeframe to be included in the special issue.
Timetable for potential authors
15 October 2022 - Deadline: expressions for interest
1 November 2022 - Commissioning decision made and communicated
15 May 2023 - Articles submitted
31 July 2023 - First decision made on basis of review
6 November 2023 - Revised articles submitted
22 January 2024 - Final decisions made on basis of second review
12 February 2024 - Final versions of accepted articles sent for proofing/typesetting.