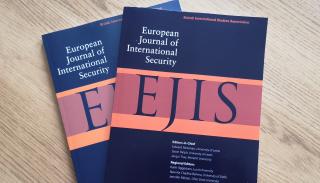 An update from the European Journal of International Security
This article was published on
Special issue released
This month, the editorial team at the European Journal of International Security is pleased to announce the publication of Special Issue 7 (1), 'Operational experiences, military role conceptions, and their influence on civil-military relations.' Guest edited by Christoph Harig, Nicole Jenne and Chiara Ruffa, this issue features contributions from diverse perspectives to explore the nature and role of military organizations in a dynamic and changing world. Jenne and Martínez explore domestic military missions in Latin America, whilst Levy explores the deployment of the Israeli Defence Force to combat the coronavirus during 2020–1. Meanwhile, Mukherjee asks how combat missions shape civil-military relations and the military's role conception, taking India as a case study. Explore the latest issue in full.
Special collections
Together with Cambridge University Press, EJIS has curated two Special Collections on Gender and Security and Cyber-Security available to view online.
EJIS conversations
In our latest 'EJIS Conversations' video feature co-editor Edward Newman discusses the use of armed drones in Afghanistan and the broader implications of this for counter-terrorism and peacebuilding, with co-authors James Michael Page and John Williams. Their EJIS article, 'Drones, Afghanistan, and beyond: Towards analysis and assessment in context', is currently freely available as open access.
ISA 2022
In March, EJIS co-editor Jason Ralph will be representing EJIS at the ISA 2022 Conference, Nashville. See the program here.
#BISA2022
Are you a Postgraduate researcher with an article in progress? EJIS is proud to take part in the BISA Conference 2022 'Meet the Editors' Call for papers. Apply now to gain one-to-one feedback on your article draft at BISA 2022 Conference, Newcastle.
Pre-submission feedback
Finally, for those based or trained in global regions underrepresented in the fields of International Relations and security, don't miss the opportunity to gain pre-submission feedback on your research. Contact F.Petrizzo@leeds.ac.uk to learn more.
Follow us on Twitter @EJIntSec to keep up to date on upcoming publications and events.