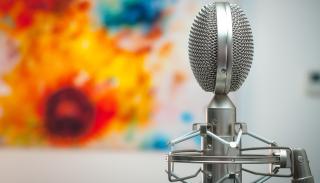 In discussion: Helena Farrand Carrapico
This article was published on
We recently announced the election of three new members of our Executive Committee. We hope this interview series, one with each new trustee, will help you get to know them a little better.  This week it's the turn of Helena Farrand Carrapico, Professor in International Relations and Jean Monnet Chair at Northumbria University.
Who are you and where are you from?
I'm a Professor in International Relations and Jean Monnet Chair at Northumbria University, where I'm also Director of Research and Knowledge Exchange in the Department of Social Sciences. I live in the North-East of England with my husband, our daughter, and our two cats Siena and Lucca. I grew up in Lisbon, Portugal, but lived a bit everywhere in Europe, from Paris to Warsaw, Brussels, Vienna and Florence. I have relocated so many times that I'm pretty sure I could run my own house-moving business! Having fallen in love with the North East, its long sandy beaches and its amazing nature reserves, though, my plan is to stay put for many years to come.
Why did you want to be a BISA trustee and what do you hope to achieve during your term?
BISA played a key role in my career development over the past 10 years. It enabled me to meet and collaborate with colleagues working on similar topics, to benefit from feedback and informal mentoring, and to develop organisational and leadership skills. Although we often tend to think of academic careers as individual journeys, BISA helped me to understand our field much more as a collaborative and mutual support network. I applied to become a BISA trustee so I could further develop the network and its supportive activities for academics at all career stages. I'm particularly keen to create more training for postgraduate students (including methodological training, but also general academic and non-academic career development), as well as further research and teaching engagement opportunities for all members.
What is your area of research and how did you get into it? What are you currently working on?
My research focuses on European security, where I explore how different internal security concerns, such as organised crime or cyber crime, are discursively constructed, interconnected, and responded to by EU and UK actors. I am therefore interested in the way actors understand and govern internal security, and how they export it beyond their borders. I currently have two main projects: an ESRC, in cooperation with Professor Ben Farrand, focused on EU digital and technological sovereignty discourse and its impact on UK tech producers, and a Jean Monnet Chair that explores the challenges of the UK-EU internal security relationship post-Brexit. My most recent article was published a couple of weeks ago in Comparative European Politics, in co-authorship with Dr Sarah Wolff and Dr Agathe Piquet, and it's entitled 'UK's Withdrawal from Justice and Home Affairs: a historical institutionalist analysis of policy trajectories'. In terms of forthcoming publications, I have a special issue coming out in a few weeks in European Security, in co-editorship with Dr Rocco Bellanova and Professor Denis Duez, on 'Digital/ Sovereignty and European Security Integration'.
Can you tell us a bit about your career journey so far? Do you have any advice for colleagues just embarking on an academic career?
My journey into International Relations wasn't a straightforward one. I started with a liberal arts degree where I studied very different subjects including Economics, Business, Law, and Literature. I then chose to specialise in European Studies at MA level, which means that my first contact with the discipline of International Relations only came about in my first year of PhD. After completing my doctorate (European University Institute, 2010), I did a couple of post-docs, including the one that would lead me to the UK, as a Newton International Fellow. I got my first permanent position at Aston University in 2014 and eventually moved to Northumbria University in 2019, having taught and researched at the intersection of different academic disciplines. My advice to colleagues embarking on an academic career, in a way, reflects this slightly unorthodox career journey. Many people will tell you what they think is the right path to a successful career, and you might even get a few of them discouraging you from staying in academia. When that happens, please remember that as relevant as their experience may be, there is no single path into an academic career and that a supportive and kind network of family, friends, and mentors is ultimately what will enable you to find your own path.
Is there anything else we should know about you?
I'm a big sci-fi fan!